Many people spend a lot of time in their living rooms, whether it's watching TV, relaxing with a good book, or spending time with family and friends. Window treatments can make or break a room, especially as they mix form and function.
Your window treatment choice will depend on many factors: privacy, natural light, room size, aesthetic preferences, and the functions you want.
The best way to work out which Ann Arbor window treatments are right for you is to start with what you need and work backward. Doing it this way will help you avoid falling in love with a particular style, even if it's not the right choice for you.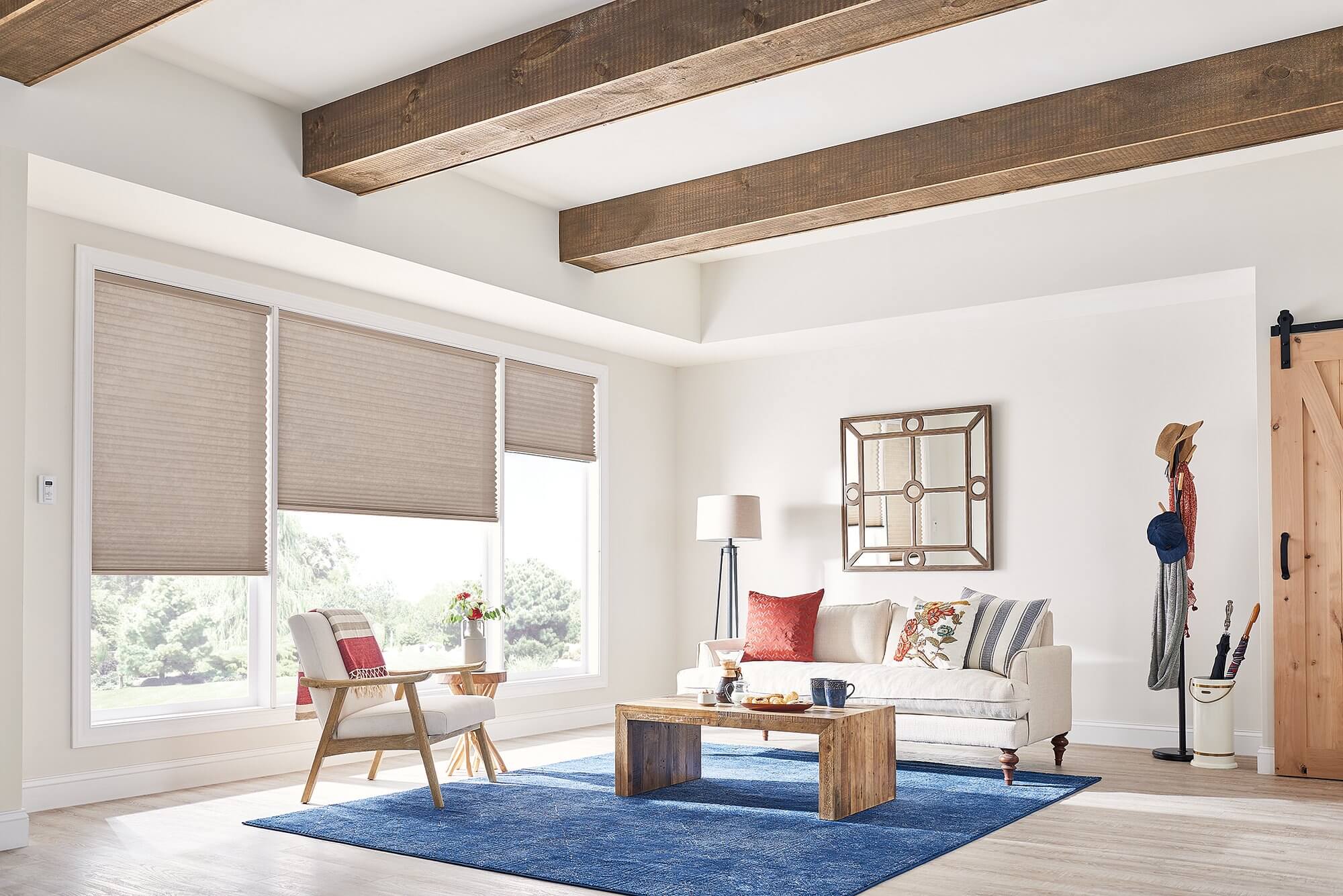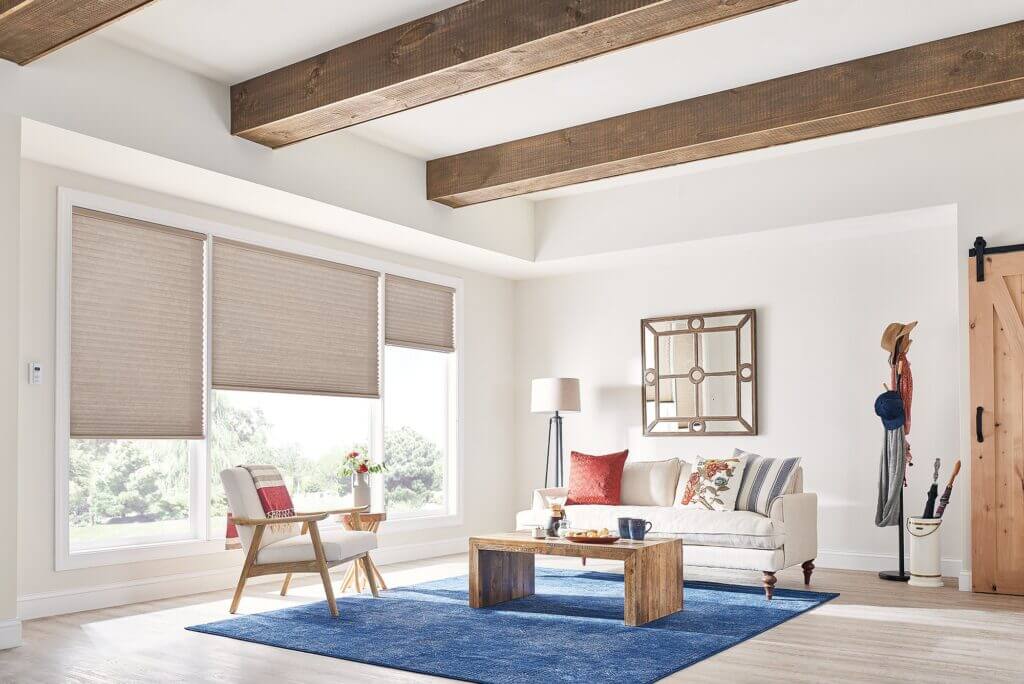 If you're not particularly design-oriented, you'll be pleased to know that our custom blinds in Michigan come with a design team. They'll help you pick the perfect window treatment as well as any extra panels, draperies, or other decorative items that will tie everything together.
Living Room Window Treatments Options
Homeowners have a wealth of choices when it comes to innovative window treatment designs. Each type of window covering has its own benefits and drawbacks, so understanding these options can help you make the right decision for your living room.
Blinds
Blinds come in a massive range of styles and materials. From professional-looking aluminum vertical blinds to cozy fat wood-slatted blinds, the sky's the limit when it comes to choice. It's incredibly easy to find blinds that match your living room's existing style, or you can be more adventurous and make the blinds the focus point, especially if you're trying to highlight an amazing view. It's surprisingly easy to complement blinds with additional window treatments, like draperies and other eye-catching features.
Blinds are great for living rooms where you need a bit of privacy but still want to maintain your great-looking view and let in natural light. If you have tall windows, consider using vertical blinds to complement the height and make your living room look even bigger. Short windows do better with horizontal blinds, as they create the illusion of length, which translates into the feeling of a more spacious room.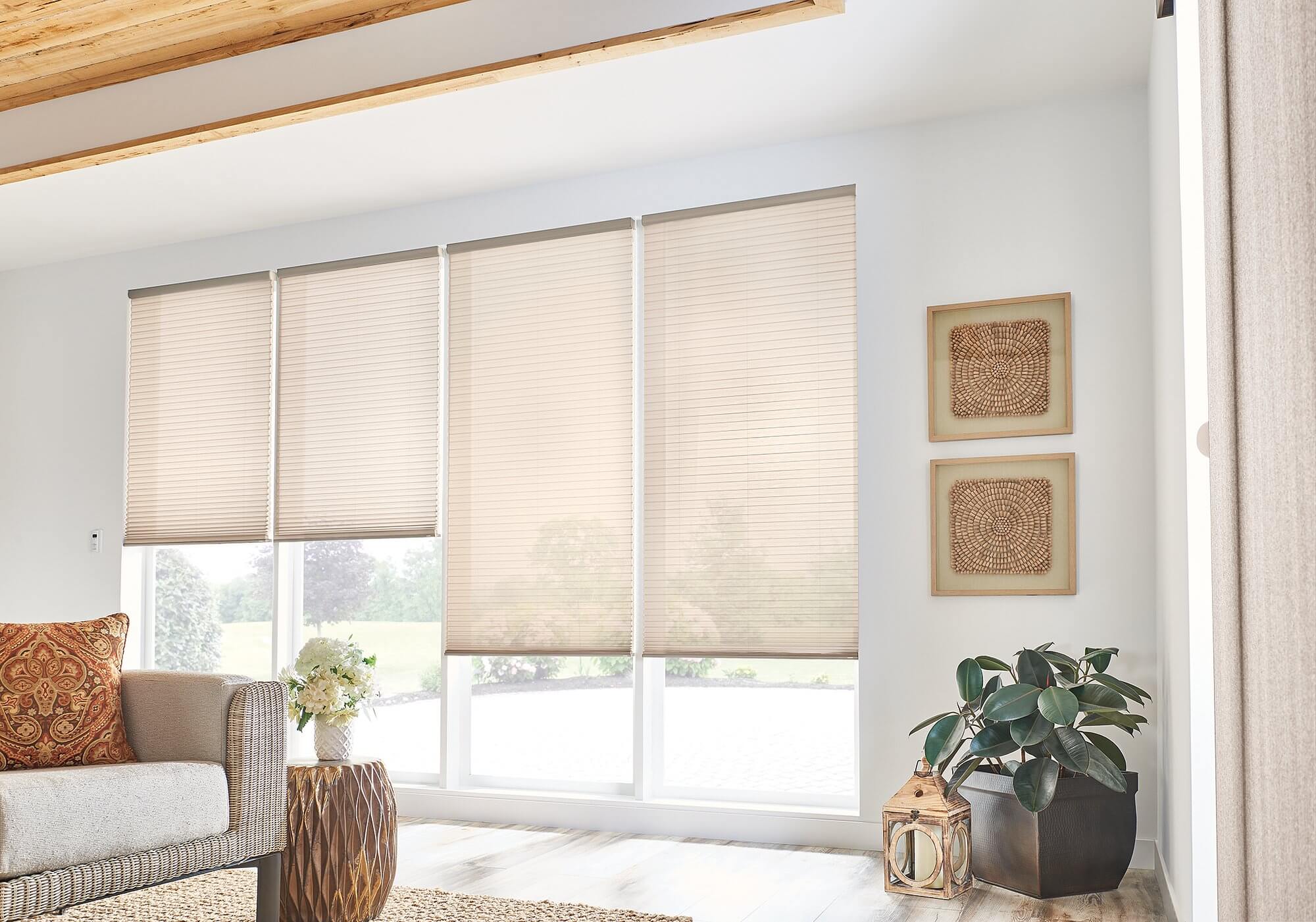 Roman Shades
Shades offer plenty of versatility, making them ideal as window treatments in Michigan. They can range from blackout, energy-efficient, light-blocking shades to almost transparent, glare-reducing options. If you've ever had to squint at the TV at certain times of the day, you'll definitely appreciate what Roman shades can do for you.
What makes shades so appealing is that they look neat and stylish, whether up or down. With modern roller shades, it's easy to remotely control the window treatment, allowing for the ideal combination of light and privacy.
Shades can make your living room more energy efficient by blocking heat transfer. That means that your living room will stay cooler in summer while also staying warmer in winter. You can also select Roman shades that are translucent enough to still let in plenty of light while shielding the room from harmful UV rays, which can damage your skin and fade your furniture, during peak afternoon times.
Cellular Shades
Cellular, or honeycomb, shades are the latest innovative window treatment designs that combine the energy-efficiency of blackout shades with the translucency of more lightweight options. These shades are great for the living room because they help limit UV rays in the room while still helping to retain a sense of airiness and lightness.
Just like with any other window treatment, cellular shades come with many choices for style and function. If you're worried about safety, you can opt for a cordless control scheme that prevents strangling accidents. With the amazing range of colors, your new shades will blend in seamlessly with the rest of your living room's design.
Shutters
One of the most popular Ann Arbor window treatments for living rooms remains traditional shutters. They complement older-style houses, and their chunky feel can instantly make a living room feel comfortable and warm. If you have an older-style Ann Arbor home, shutters may be just what you need to restore your home's original feel.
While shutters are a classic style, modern control schemes make them much easier to operate so that you can combine style with functionality.
Get the Right Window Treatment for Your Living Room
Window treatment installations can be exciting and overwhelming. Choosing the right blinds in Ann Arbor can be a difficult decision, whether you're working on just your living room or the whole house.
Creative Windows is the premier manufacturer of custom blinds in Michigan, and we're here for you. Whether you want some advice from our design team or an estimate for some window treatments in Michigan, don't hesitate to get in touch at (734) 769-5100. We look forward to hearing from you!