The best window treatments for any room in your home will be functional, have a purpose, and be elegant as well. They make your spaces beautiful and perform several functions too. Your Ann Arbor solar shades need to provide functions based on items in the room to get the maximum performance out of your window covering solutions.
What Factors to Address When Adding New Window Treatments
An interior designer first looks at your room and the windows in that room to decide what items need addressing with your window covering solutions. The space must be functional, flow easily, and take care of your preferences and personal needs. Then the designer can make several suggestions for you to consider. The main factors that are taken into account are:
Light Control
Energy Efficiency
Privacy
Views Outside
Aesthetics
1. Light Control
The amount of lighting control that you need in your living room is directly related to what direction your windows face. Windows that face north, will hardly ever get any direct sunlight in them, but windows that face south, east, and west will get some direct sunlight at some point during the day. You need to determine how much sunlight you actually want to block in a room to make a good decision on window coverings.
2. Energy Efficiency
Sunlight streaming in through your windows also lets heat into your home. It's important that you can stay at a comfortable temperature in your living room all year round. Your amount of energy lost through your windows depends on the direction the windows face, and how many windows are in your space. Window treatments are excellent at controlling energy loss through your windows.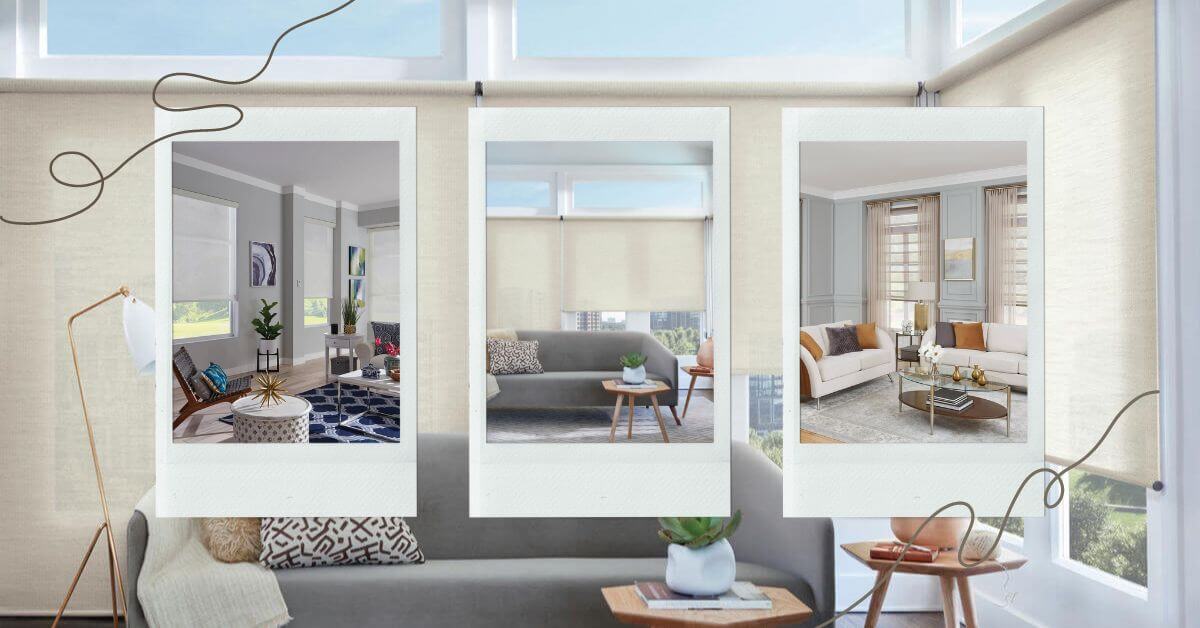 3. Privacy
You need to consider what is around your home on the exterior to access your privacy needs in your living room. If you have nearby neighbors or open spaces by your windows, then people can see inside your home. Most of the time, if you have several large windows in your living room, you want your window treatments to protect your family from any unwanted attention.
4. Views
If your windows look out over nice landscaping features, you want to frame the window and preserve the view. In the opposite scenario, if there is something unsightly out of your window, you want the window covered, so you don't see it.
5. Aesthetics
Your new window treatment solutions should reflect the mood and style of your living room. They should also complement the decor with texture, colors, and patterns. You can highlight architectural features as well, such as arched specialty-shaped windows.
What Are The Best Living Room Window Treatments?
Your living room is usually the first room anyone will see when they enter your home. It's a great place to display your mood, personality, and your sense of style. You should determine what the room is mainly used for and choose Ann Arbor window treatments that are best suited for your space. You have several great options from which to choose.
Solar Shades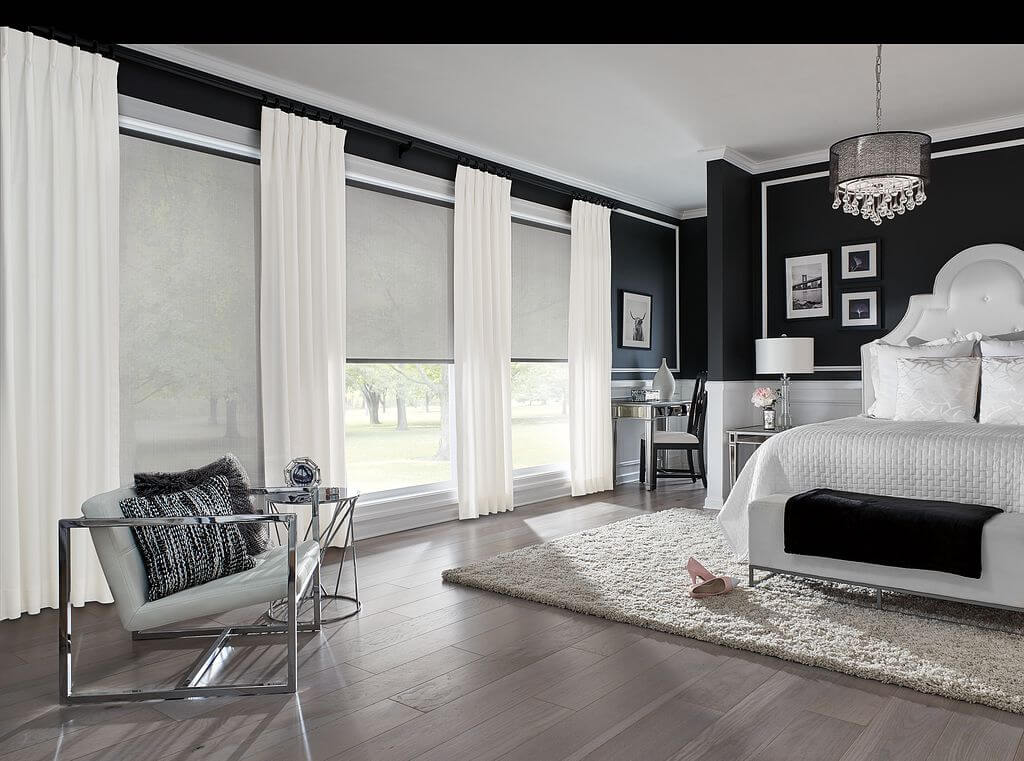 Solar shades for your living room are the best choice for almost all applications. They are easy to operate just like a roller shade where they wind upward onto a cassette at the top of your window when you raise them. Solar shades have clean lines, and they are available in solids, textured and patterned fabrics in a huge selection of colors. They work especially well for large windows to increase privacy, block out heat and glare, and they give you great lighting control. Choosing thicker fabrics will make your solar shades room darkening, and you can choose the cordless lift style so this window covering is child safe. You can also have your solar shades automated as Smart shades.
Vertical Blinds
Vertical blinds are a good solution for large windows and sliding glass doors to control your privacy and light in your living room. They are quite stylish and look lovely in windows and doors that are wider than they are tall because they make your ceiling seem to be taller than it actually is. You can open the vanes to let in filtered light, open them entirely for sunlight, or close them entirely for privacy.
Roman Shades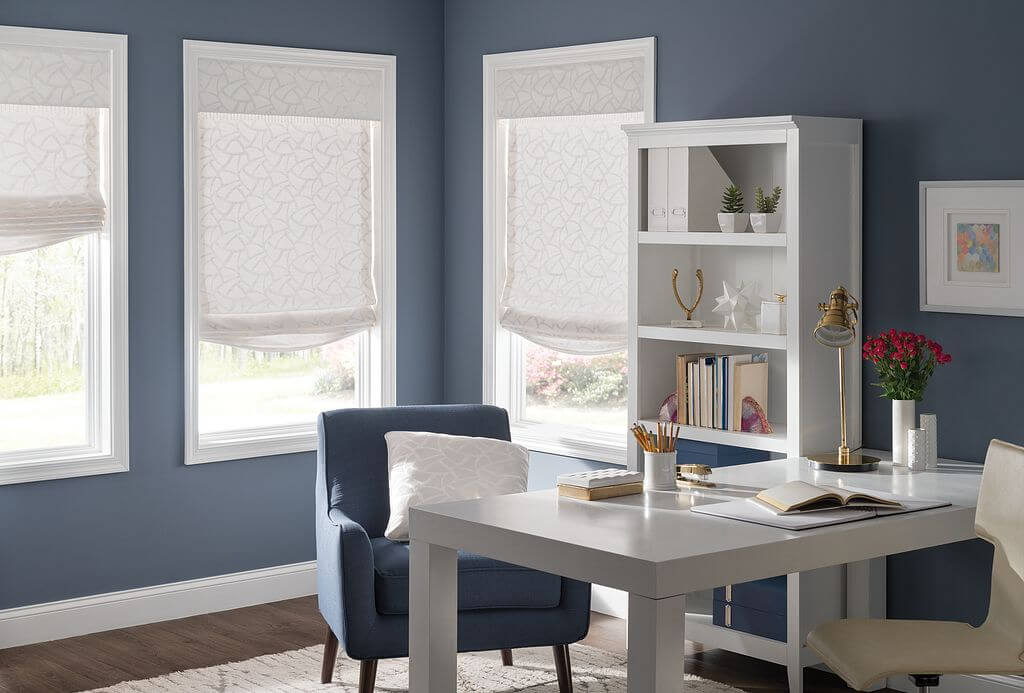 This type of window shade is luxurious, and it adds elegance to your living room. The fabric stacks at the top when it's open, and your choice of fabric can be room darkening, light filtering, or anywhere in between to suit your needs. You can open Roman shades partially for some sunlight and still be able to see the pretty fabric pattern that you chose.
Cellular Shades
Cellular shades are very energy efficient and easy to use and maintain. They trap air next to your windows in tiny cells that are sandwiched between two sheets of fabric to add insulation to your windows and prevent energy loss. Cellular shades are available in many styles and colors to complement your living room decor.
Drapery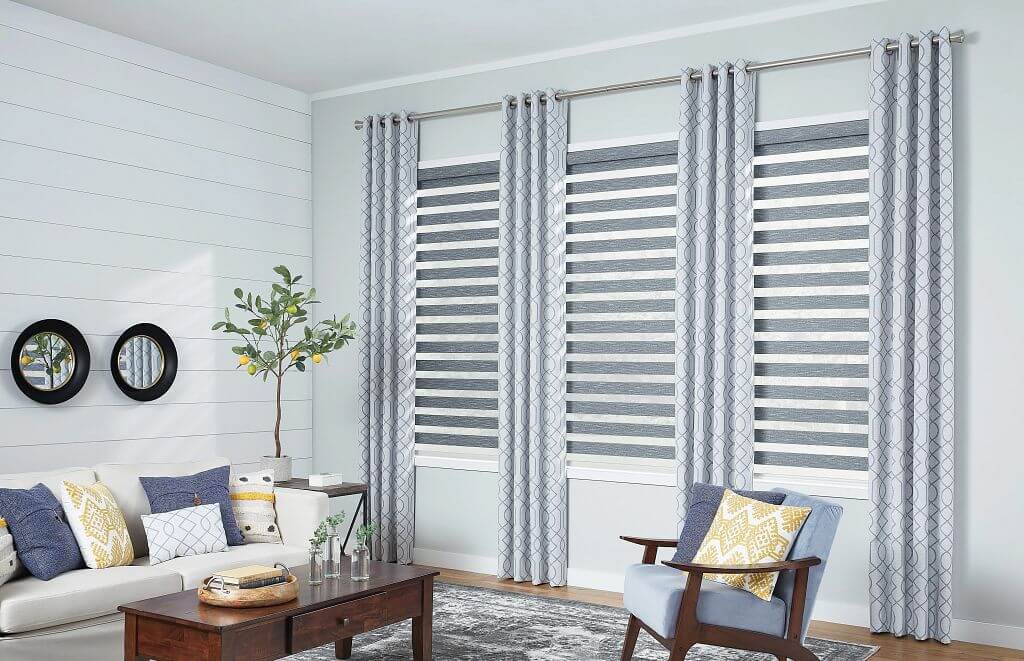 Drapery is very versatile because you have many choices in how they look and operate. Sheer panels of lacey material work well in windows that don't get a lot of sun and heat in them. Long drapery panels made from thicker and more luxurious fabrics are insulating, great for privacy blocking the sun's glare from your living room. You can add a custom valance or cornice as a top treatment over your draperies to add your own personality to your living room.
Conclusion
Your best bet for living room window covering solutions is Ann Arbor solar shades. They give you many choices in colors and textures, look stunning, can be upgraded to cordless and Smart home functions, and you can add any type of trim to them that you wish. Contact us today at Creative Windows to see what we can create with you for your living room window solutions.