Unsure About Installing Cellular Shades? Get to Know More the Features & Benefits!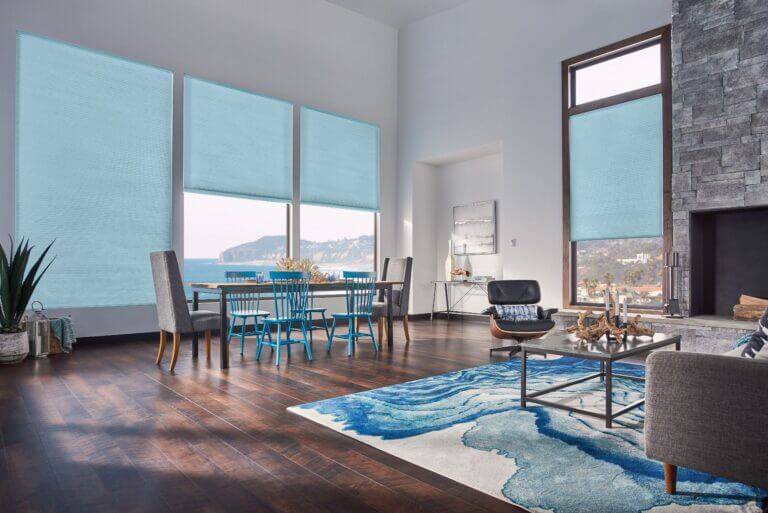 What Are Cellular Shades?
Cellular shades offer the highest insulation ability of any other window treatment on the market. 
Windows provide curb appeal and protection to a home. Windows are also one of the first places that homes experience energy depletion. The unique honeycomb design of cellular shades addresses window energy loss by creating compressive air pockets, which significantly reduce heating and cooling loss.
As Ann Arbor, Michigan residents, we are all too familiar with the high costs of heating and cooling our homes. If you are unsure of installing cellular shades in Ann Arbor,  read on to learn more about its features and benefits. 
Are Cellular Shades Out of Style?
Cellular shades are highly customizable. This window treatment comes in a variety of shapes, opacities, and price ranges. In addition, whether your home follows contemporary, modernistic, or traditional designs, there is a shade option for you. 
Still, the variety of options that cellular shades provide can be overwhelming. So, start your search by determining your desired design and opacity. 
Shade opacity describes the level of light that is allowed to pass through a window treatment. The most common types of shade opacity are room darkening, light-filtering, and blackout. 
As an example, blackout shades block the majority of the light that passes through a window. If you were deciding on the opacity for a bedroom, for example, blackout cellular shades would be a great option to consider. 
A range of designs is also available for this window treatment type. From cordless cellular shades and top-down bottom-up cellular shades to motorized cellular shades, cellular shade designs can be uniquely personalized to your needs and tastes. 
Want to sync your shades to a smart hub or device? Motorized shades may work for you. Looking to eliminate the risk of your dog becoming entangled in your shades? Cordless cellular shades offer a safe and compatible choice. 
As you can see, the design and styling benefits of cellular shades continue to make this window treatment a popular choice for savvy homeowners.
Do Cellular Shades Really Help Insulate in Michigan's Weather?
As mentioned earlier, cellular shades have a unique honeycomb design that prevents air from entering through or escaping from a window. This design allows cellular shades to have high insulation capacity.
However, the extent of insulation that a cellular shade can provide is dependent on whether the shade is a single-cell or double-cell design. A single-cell shade has one air pocket while a double-cell shade has two air pockets. 
It is important to know this difference when buying the proper cellular shade for your local climate. Michigan is no stranger to cold winter temperatures and hot summers. Given these extremes in our climate, a double cellular shade would offer the best installation advantages.
Cellular Shades vs. Roller Shades vs. Honeycomb Shades
Cellular shades are often called honeycomb shades. The term "honeycomb" refers to the air pocket design of a standard cellular shade. 
However, while they may have a similar design, cellular shades and roller shades are distinctively different window treatments. Like cellular shades, roller shades reduce energy loss from windows. That being said, roller shades provide a lower level of window insulation than cellular shades. 
The lower insulation ability of roller shades makes them best for climates with mild weather. If your home is in a region that experiences extreme cold or hot temperatures, cellular shades may be a better fit for your needs. 
What Are the Most Energy-Efficient Cellular Shades?
The most energy-efficient cellular shades in Ann Arbor are those with the optimal ability to reduce airflow and material that favors climate conditions. Evaluating a cellular shade's shape can help you choose the right energy efficiency for your home.  
Cellular shades with the best energy efficiency will have a firm accordion air pocket shape that is resilient to deformation. Typically, double-cell shades will have the firmest air pocket design. This makes double-cell shades one of the most energy-efficient cellular shade options.
Do Blackout Cellular Shades Work?
If you require a window treatment that blocks most of the light that passes through a window, blackout cellular shades may be the most beneficial option. Blackout cellular shades will keep a room nice and cool. This feature can maintain comfortable home temperatures in warmer climates.
However, for Michigan winters, blackout shades will demand extra effort to heat a room. For cooler climates, try a more transparent shade that will allow light to warm a room.
Graber Cellular Shades Cost
After you have decided on your cellular shade customizations, the next step is finding a window treatment dealer from which to purchase your custom window treatment products. One of the most credible and affordable window treatment brands on the market is Graber Blinds. Graber Blinds offers an extensive product line of stylish and functional cellular shades. 
Each Graber shade comes with a limited lifetime warranty that covers loss of window treatment parts and shade defects. Graber's window treatments are also affordable. Shade costs start at less than $90 per window. 
Calculating your total cost for Graber window treatments is also easy. Just size your windows, make your selections, and your Graber cellular shade costs will be easy to determine. 
How to Clean Cellular Shades
Low on time? Cellular shades are easy to clean. Most shades only require a quick sweep with a vacuum. If you are looking for cellular shades that are the easiest to clean, consider shades with stain-resistant paint.
Cellular Shades for Sliding Glass Doors
Sliding glass doors offer visual appeal and ease of access for a home. Still, the larger the window, the more potential there is for energy loss. Cellular shades are an efficient way to mitigate the energy loss caused by sliding glass doors. 
The variety of market cellular shade options makes purchasing vertical shades for your sliding glass doors a breeze. 
To save money on energy costs, it may be time to try cellular shades! Choose your custom cellular shade in Ann Arbor today at Creative Windows. Request your free consultation now!
Whether you would like to keep your home cooler in the summer or warmer in the winter, there is a cellular shade option to suit your exact needs. Contact us today to get started with your project!