Choosing the right window treatment goes beyond the traditional blind and shade choices. Cornices and valances in Ann Arbor are an excellent way to add elegance to your windows while concealing unsightly mounting elements. Timeless drapery in Ann Arbor combines style and practicality.
Should you choose a cornice or a valance for your window topper? The professionals at Creative Windows share essential information to make your decision easier.
Keep reading to find out which treatment is best for your windows, then contact us with any questions.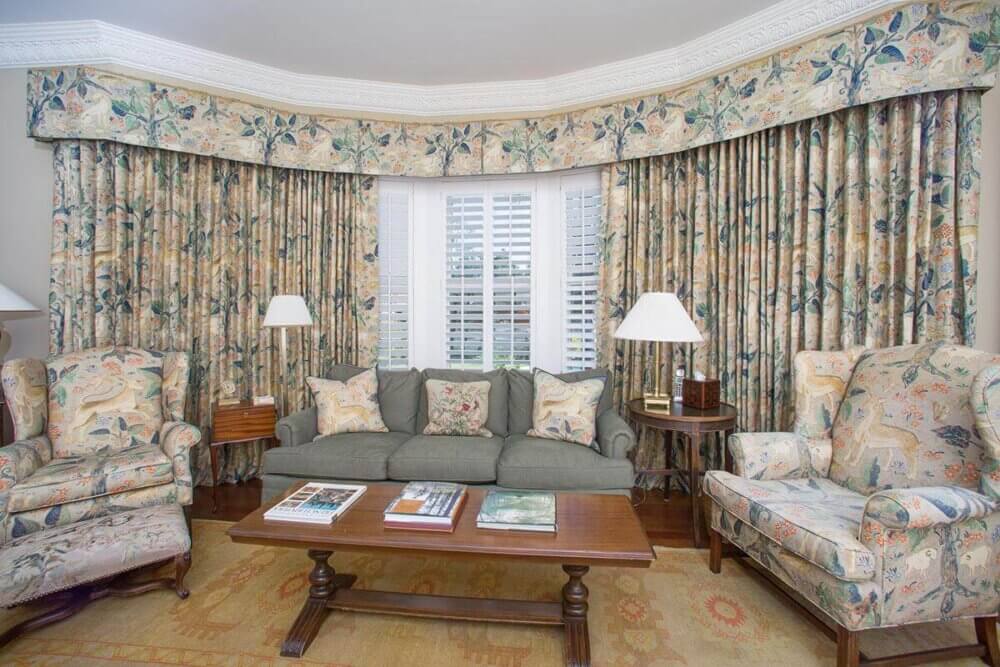 What are Valances?
Valances are strips of material that stretch or drape across the top part of a window to hide mounting elements and other parts. Fabric valances lack the structural integrity cornices have and mount on curtain rods. Their shorter drapery design makes them similar to curtains and drapes.
A window valance adds color and is a softer accent piece. Drapery valances are a suitable treatment for those interested in depth. Implement eye-catching patterns or match fabric to wallpaper with window valance treatments.
You have many style options with valances. Gathered valances, scalloped valances, and pointed shape valances will add elegance without distracting from the rest of the interior.
What are Cornices?
Unlike valances, window cornices are usually wood boxes, sometimes covered with fabric, paint, or decorative material. These ornamental window treatments also feature engravings.
Cornices come in many colors and may also have tassels or trim. These window treatments fasten to the top of your windows to hide window treatment mounts and give your room a pop of color. In some cases, cornices also block light from peeking over the tops of windows.
If you're looking for a formal or professional look, cornices can adapt to any décor. Select cornices with complementary colors to your existing drapery. Ann Arbor cornices are ideal for drapes but fit well without additional window treatments.
Differences Between Cornices and Valances
While cornices and valances in Ann Arbor have similar purposes, they are drastically different. Drapery valances only feature fabric material, whereas a cornice is solid wood framing with decorative fabric stretched over it. Fabric-only elements give your rooms a soft look.
Cornices sit above the windows, whereas valances cover a significant portion of the windows while still allowing additional light in your home.
Installation is also different. Valances go over your existing curtain rods and mounting fixtures, while cornices install at the top of your window to cover these elements.
Are Cornices and Valances Outdated?
Contrary to popular belief, cornices and valances in Ann Arbor are not outdated. Today's cornices and valances come in hundreds of colors, textures, and styles to complement different window treatments, making them ideal for any home or business. Motorized window coverings are a popular option that fits with these coverings.
Traditional cornices and valances fit any interior design theme and give your home a timeless look. Motorized window treatments give your space a modern, high-tech edge. These types of shades offer a clean look while adding color and visual interest.
These window coverings make updating your decor easy. Use these treatments to define your window better, implement effective shade control methods, and give your home a polished look.
Window covering measuring installations ensure that you get the best fit. Use cornices to add color to your upscale living room or kitchen and install valances for a softer appearance.
Choosing the Right Window Topper
More rigid window treatments encourage a formal, professional environment. Cornices are ideal for commercial offices and homes, while structured valances also add rigidity. Draped valances can match nearly any interior design but add softness and luxuriousness.
Choosing the right window topper means you need professional assistance to get the best size, color, and shape. Consider the differences of each and identify which better serves your indoor lighting and comfort needs. Seeing your options in person can help you make a confident decision.
Ann Arbor Window Treatments by Creative Windows
Decide what window topper is right for you with help from Creative Windows in Ann Arbor, MI. We carry the best selection of cornices and valances in Ann Arbor and the surrounding cities.
Contact us at (734) 769-5100 for a free consultation.