In terms of design, minimalism, and energy efficiency, honeycomb shades are the chic and contemporary alternative to curtains. Cellular shades, also known as honeycomb shades, are a solid and practical choice with a unique honeycomb pattern that makes them easily recognizable. If you plan to install this versatile window covering, consider all its pros and cons before making your final decision.
What Are Honeycomb Shades and How Do They Work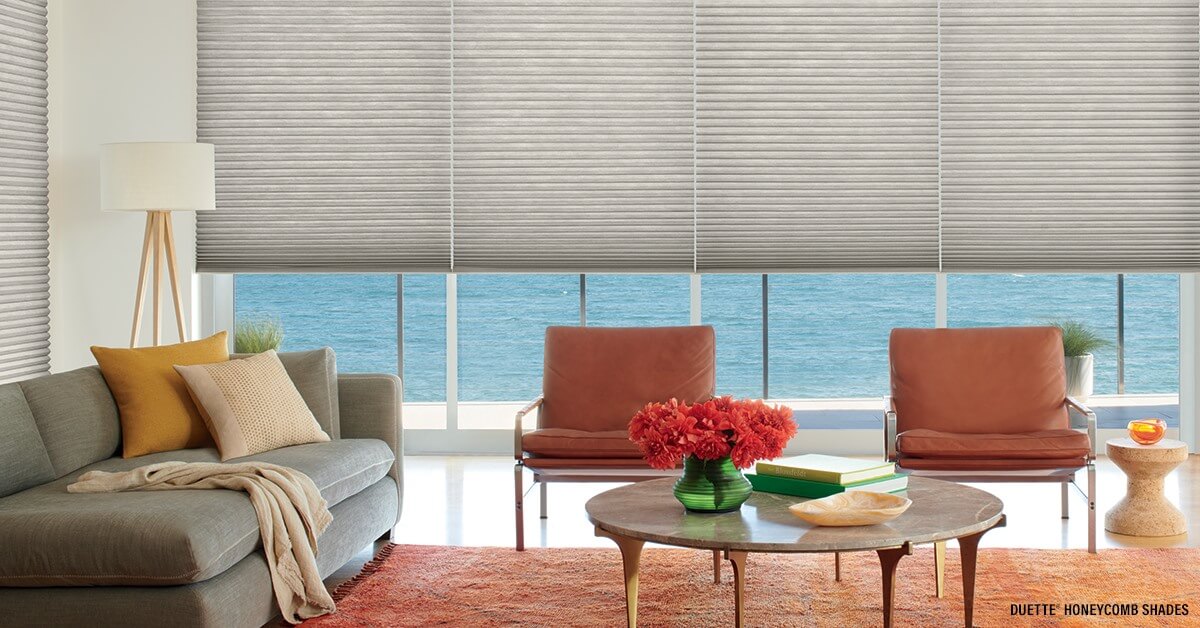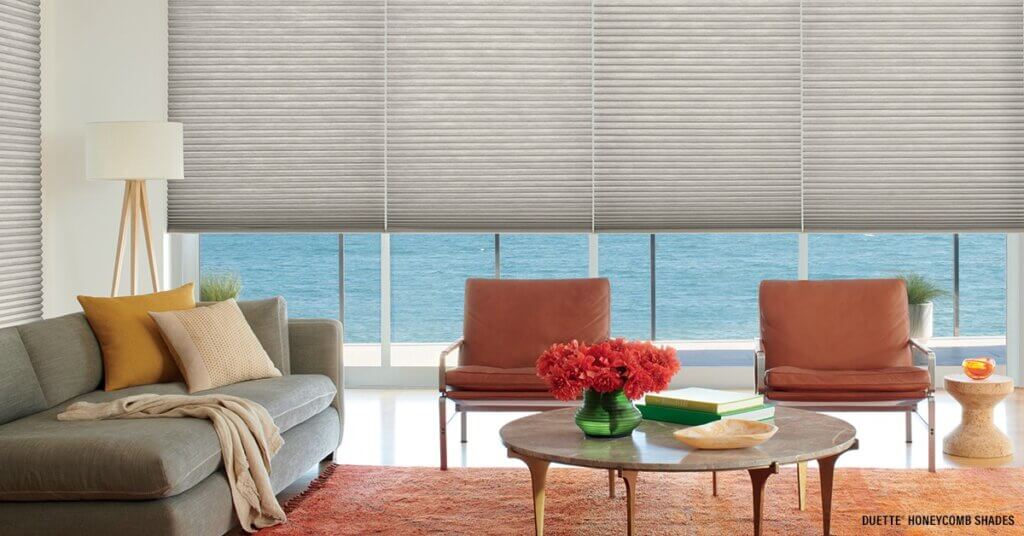 Cellular shades, also known as honeycomb shades, are one of our most popular window treatments. They are a great mix of style and ease of operation, a cost-effective option. With a wide range of styles and colors, you can customize your shades to match your home's décor with a slim and stackable design. 
Light filtering is another advantage of cellular shades. You can choose from a range of light filtering options to control how much-diffused light enters a room when closed. Alternatively, you can opt for a full blackout to eliminate light, a perfect option for bedrooms or movie theaters. Cellular shades are available in both single-cell and double-cell designs for energy efficiency, as well as cordless and motorized options for customization.
In honeycomb and cellular shades, hexagonal cells can trap air, which acts as an excellent layer of insulation against heat transfer. In addition to providing light control, light filtration, complete blackout, and privacy, their cellular structure is also well suited to any type of home decor.
Advantages of Honeycomb Shades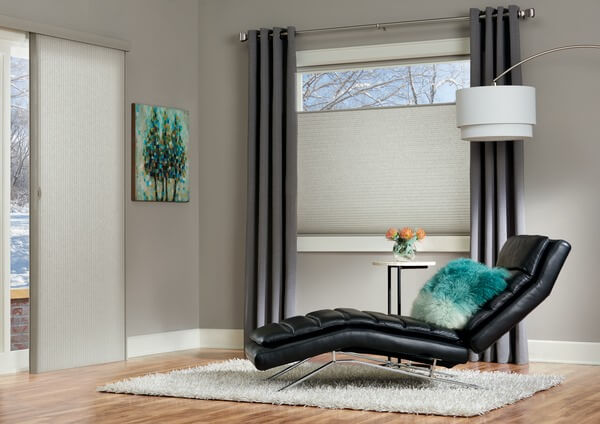 The air transfer from your windows doesn't get allowed inside your home. So, these energy-efficient shades will take less cooling in the summer and less heating in the winter to keep your home at a comfortable temperature. This translates into great energy efficiency all year long for your temperature control.
With honeycomb shades, you can choose from a variety of fabrics and opacities, whether you are looking for a complete blackout or light-filtering product. In your entertainment room, for example, opaque fabric blocks out light, whereas translucent fabric filters light in your living room for a warm, soft glowing effect and to add ambiance to your home. 
However, the shades can be raised whenever you want light in or lowered when you want a darker environment conducive to sleeping. Light control and privacy go hand in hand. With blackout shades, you get perfect privacy.
You can escape the noise of nearby streets with honeycomb shades thanks to their cellular construction, which captures air coming through your windows to create a quiet and peaceful atmosphere with noise reduction. This also gives your entire room an extra layer of insulation to keep it comfortable.
Disadvantages of Honeycomb Shades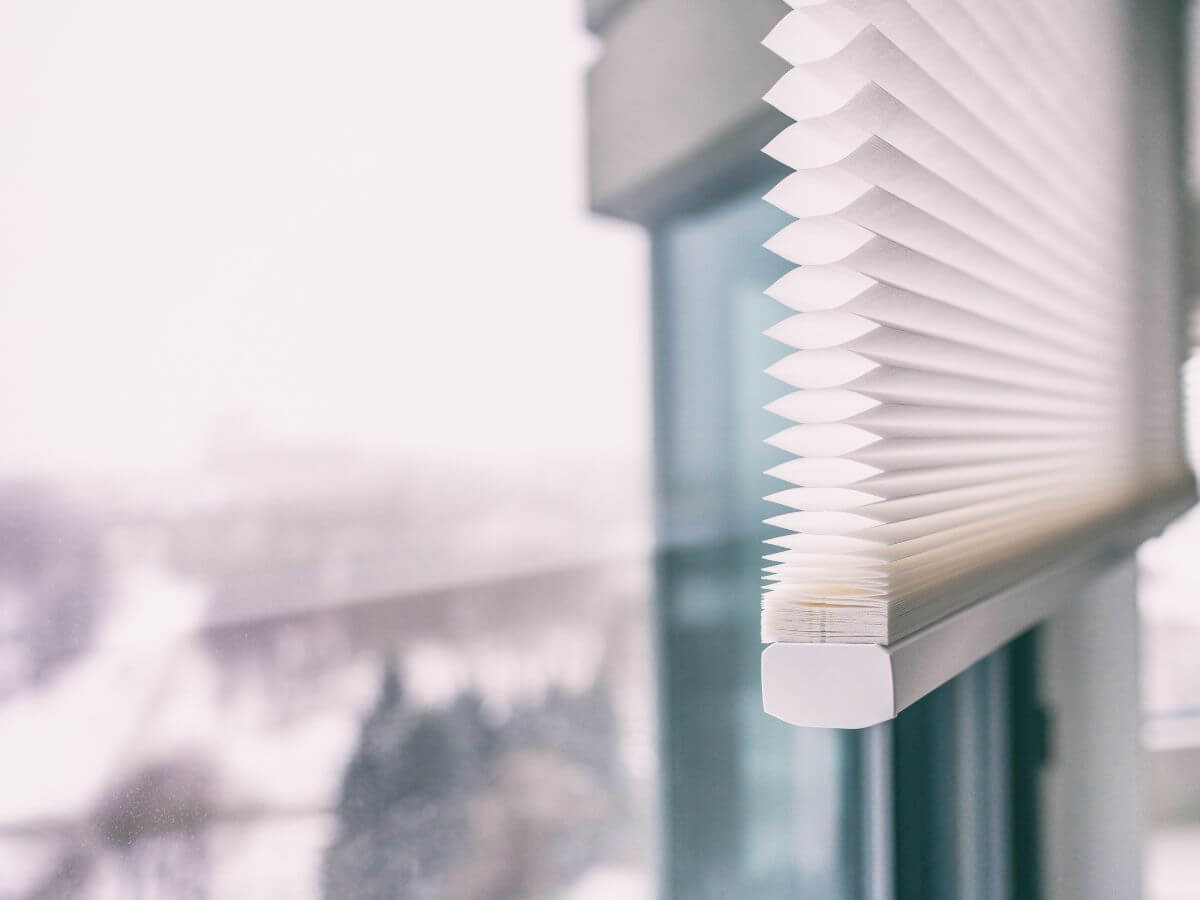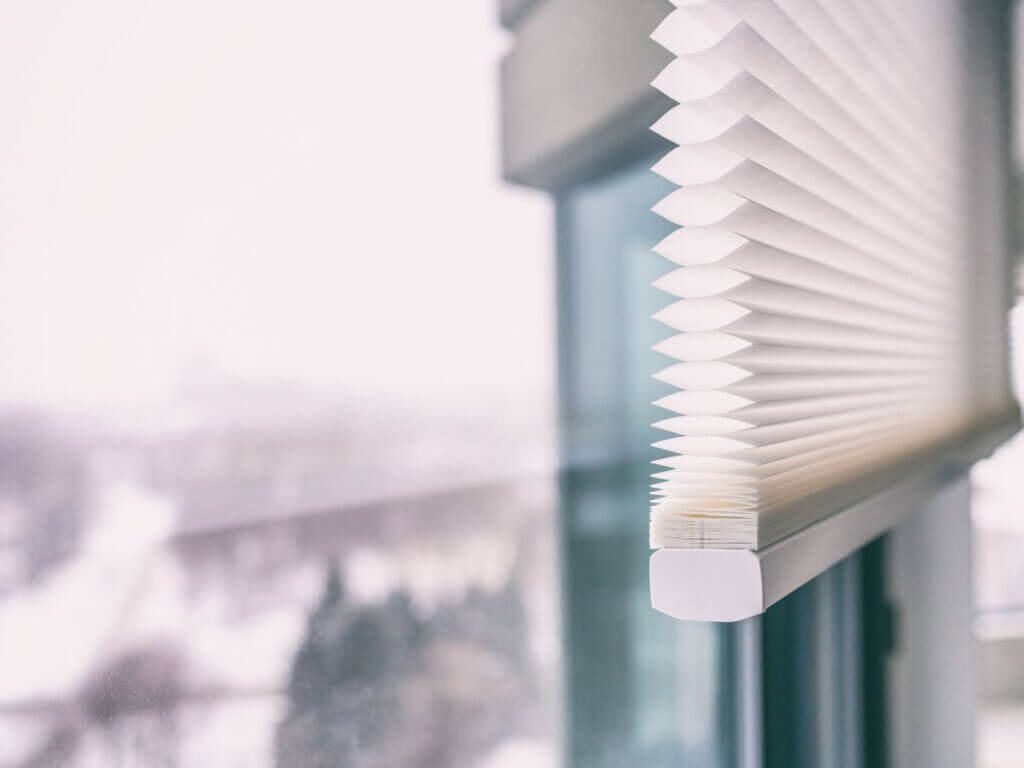 When your shades are down, you don't have a good view of the outside. This makes them less suitable for rooms where you want to see outside, such as your living room or a window facing the same direction as your front door. To see outside, you will need to raise the shades and peer outside. In this case, it may be more convenient to install window blinds, so you can tilt the slats to look outside
Even though honeycomb shades can be made from different types of fabrics, none are as easy to clean as plastic or wood blinds. They collect dust and can even stain over time. In honeycomb structures, dust and dirt accumulate in the cells. If the cells are not vacuumed or dusted regularly, it becomes difficult to clean every cell, causing you cleaning difficulties.
Installation Tips for Honeycomb Shades
Make sure you take precise measurements for your honeycomb shades. Otherwise, you may have light gaps on the sides of them, or at the top or bottom. Which will make your shades less effective. On the other hand, if your shades are too wide for the window casing, they will rub on the sides when you open and close them and this will eventually cause fraying.
Precise measurements include measuring the height on the left, center and right of the window frame and then the top, center and bottom of the frame for the width. Use the smallest of each measurement for your window size.
Light-filtering materials will allow some adjustable natural lighting into your home through the windows so that you will need less artificial lighting. Blackout fabrics are very dark, and they work well in bedroom windows for peaceful sleep as well as for media rooms, so you can see the screens in use clearly without glare.
Care and Maintenance Tips for Keeping Your Honeycomb Shades Looking Like New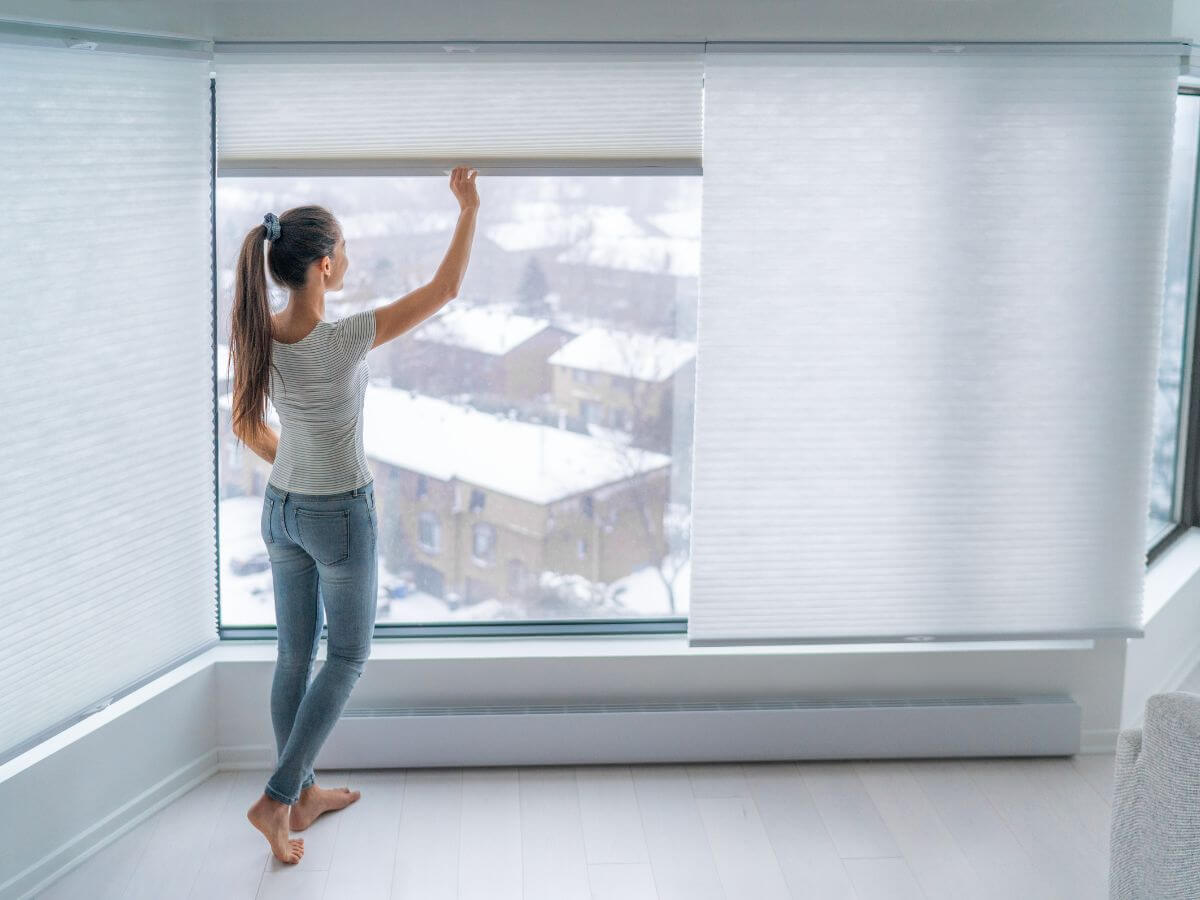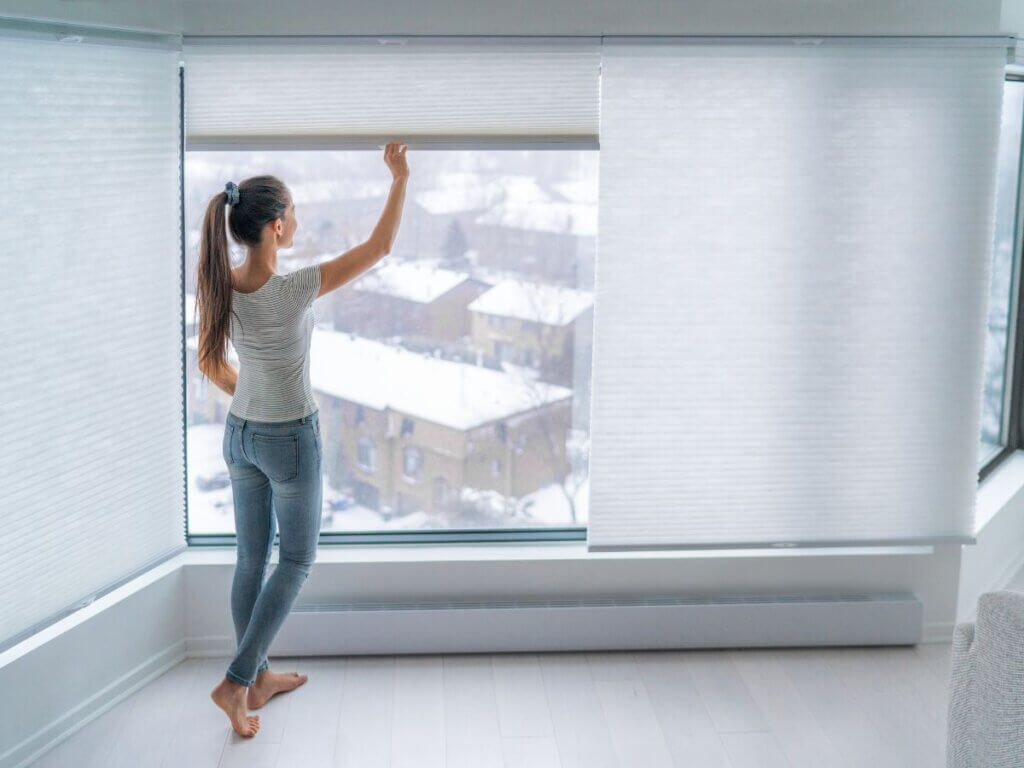 It's best to routinely clean and dust your honeycomb shades every week or two when you clean your house. This keeps dust from building up on them, which will be harder to clean off at a later date.
To maintain a pristine appearance, you can lower your shades all the way down and wipe them with a microfiber duster on both sides. If you peer into the honeycomb cells from the side, you may see an accumulation of dust, debris, or dead bugs in them. To remove this, you can blow each of the rows of horizontal cells out with a blow dryer. Be sure and check the manufacturer's recommendations on your particular shade material before cleaning them.
Prevention and Protection
Preventing a buildup of debris and dust will allow cellular shades to open and close properly for many years. Excessive dust adds to the weight of the shade and can eventually make the lifting mechanism wear out prematurely. Never use hard cleaning tools or harsh chemicals on your shades.
If your cord on your shades happens to break, a DIY homeowner can possibly replace the cord or a cord stop, but restringing your shade is quite a difficult task. If you aren't sure about ordering parts and fixing it yourself, then call a professional window treatment company for repairs.
When your shades become dull or dingy or fade, it's time to replace them to brighten and lighten up your home. If your shades are quite a few years old and need repairs, you may consider buying new as well if the repair bill will be quite steep.
Finding the Perfect Balance
Honeycomb or cellular shades have many great benefits of being stylish and energy-efficient and they offer different light control opacities while adding insulation to your windows. They may be a bit harder to keep clean than other fabric shades and offer less lighting control than window blinds, though. It's important to weigh all of your needs with the features of window treatment products before purchasing them. Securing a consultation of a professional will make certain all your needs are met and your products look fantastic too.
Ultimately, the benefit of investing in honeycomb shades lies solely in the preferences and needs of the homeowner. If you do decide to go with honeycomb shades, consider scheduling a free consultation from Creative Windows and checking out some cellular shades as well. With all these things in mind, it's important for the homeowner to take into account their home atmosphere and personal style when choosing the right window treatments for each room in the house.