Open light shades diffuse the light coming inside of your windows to cut glare and heat while still maintaining your view of the outside. They are available in many different styles and colors to match your uses for your home. Read on to find out more about this unique type of window shade and all of its benefits for you.
Knowing Open Light Shades
It's a combination of the highest quality fabrics and a source of beauty in open light shades. An open light shades manufacturer offers you many different colors and textures of fabric from which to choose.
This type of window shade operates as a roller shade, in which the shade appears as a sheet of fabric when they are closed, and when you raise them, they open upward, and the fabric rolls up onto a protective cassette at the top of the window frame.
Within the types of open light shades, you can choose a screen or mesh-like material for use as a solar screen with different levels of openness to suit your exact needs in every window of your home. Choose from light to mid-tone to dark colors for your needs.
You can select from a variety of designer-grade fabrics for your modern home to accent the beauty and control lighting, privacy, and heat gain. There is also a collection of light filtering fabrics for your open light shades in light, mid-tone and dark colors.
You can also choose from fabric that is sleek and streamlined that looks flat when opened, or a pleated shade with soft pleats in them that always return to their uniform shape when you lower them.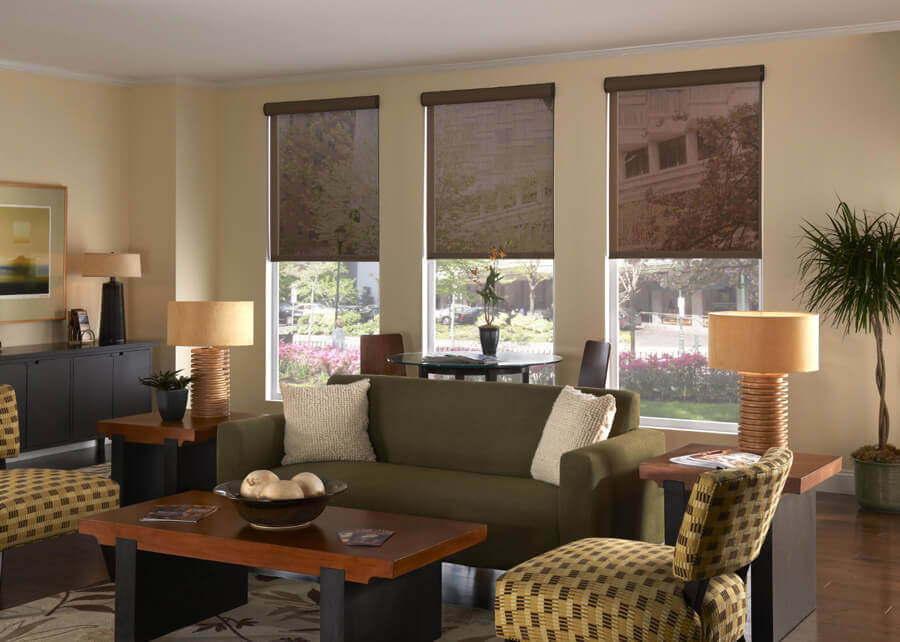 4 Awesome Benefits of Open Light Shades
Open light shades allow window treatments to be used with freedom and creativity. By eliminating the need to locate a single window in a perfect way, open-light window treatments can help you take advantage of natural light and add texture and warmth to any room. Here are the four awesome benefits of open light shades.
Open light shades are a very popular choice. Choose from numerous fabrics and color options that range from translucent to room-darkening and everywhere in between. Your pleated shades can be light filtering for windows that don't get a lot of heat and sunlight or room darkening for windows that do get a lot of heat and UV rays from the sun.
Open light shades give you several different options in their operation. Choose a single lift cord to raise and lower them on your windows easily and quickly. You may instead choose one of two children and pet-safe options without any dangling cords. The cordless option allows you to raise your blinds by grasping the bottom rail in the center and lifting it, and to lower the blind, you grasp the bottom rail and lower it down.
The most convenient option is the motorized lifting system that programs into the Smart hub in your home. You can program the blinds to open, close, and adjust on pre-set time schedules or simply press a button for operation.
Open light shades give you have an option in the size of pleats as well. Larger pleats look best on large windows, and smaller pleat sizes look best on smaller windows.
Top-Down-Bottom-Up-Option
Enjoy excellent lighting control with the top-down-bottom-up functionality from your window treatment supplier in Ann Arbor. You can open either the top or bottom of the window shade independently of each other to adjust your lighting and privacy precisely. Lower the bottom half of the shades for privacy, and you can also open the top half and have some natural sunlight in your indoor spaces. You can also open both halves or close them both as you wish.
Tips When Buying Open Light Shades
When choosing the solar screen fabric for your open light shades, it helps to know exactly how the material works to make the best decision. Darker solar screens give you a clearer view of the outside, while fabrics with lower openness levels give you better protection from the sun and insulation, but they are harder to see through.
A shade with a medium tone color and a medium openness is usually the best choice for both heat gain and privacy as well as for insulating your windows to make your home more energy efficient.
Do keep in mind that even though people outside and neighbors can't see inside your home with solar screen fabrics closed in the daytime, at night when they are closed, and you have lights on in the house they can see in, but not clearly. It's more like shadowy figures from he outside view.
It's best to choose an open light shades manufacturer for them to help you make the best decisions for your exact needs. They will show you samples and examples of how your finished products will look, so there are no surprises.
Need an Expert Designer for Your Home?
Choose a professional window treatment company in Ann Arbor with many years of experience for your open light shades, such as Creative Windows.
We have over 40 years of experience in designing, fabricating, and installing all types of custom window treatments in Ann Arbor including a full line of blinds, shades, shutters, draperies, and motorized window treatments. Contact us to schedule a FREE in-home consultation with one of our expert designers and see what we can create especially for you!