Experience the beauty and ultimate in lighting control with Graber sheer shades. This innovative window shading product is a combination of all things great in both a window shade as well as a fully functioning window blind. Go from sheer to total privacy in seconds with one product. Read on to learn all about the great benefits of Graber sheer shades for your home.
What Are Graber Sheer Shades
No longer do you need to debate between the benefits of a window shade and a window blind. Graber sheer shades have soft and beautiful fabric like a window shade. Window shades can be fully opened, fully closed, or at any height you wish. Window blinds are more functional with better lighting control though. You can also raise and lower them to any point you wish, but you can also have filtered light by closing them and tilting the horizontal vanes to direct light exactly where you want it.
Graber combined the best aspects of both of these products to give you sheer shades. They are made with alternating horizontal strips of fabric with one being light filtering and the other room darkening. You get a clean and modern appearance that matches any decor in your home, and you can switch from clear and sheer to serene and private in a matter of seconds.
Incredible Benefits of Graber Sheer Shades
Sheer window shades from Graber make it easier than ever to customize your home while gaining peace of mind due to their added security features and durable construction. Here are the ten benerfits why Graber sheer shades are the perfect addition to your home. 
1. Beauty and Functionality
Enjoy the beauty as well as the functionality with the sheer material being expertly woven into one continuous piece of fabric without any visible stitches, seams, or adhesives for a streamlined appearance.
Sheer shades are considered soft blinds because of the soft fabric they are made of with the functionality of aluminum, wood, or vinyl blinds for light filtering needs.
3. Sleek and Sophisticated Design
When you close sheer shades, the fabric rolls up into a sleek cassette that is beautifully wrapped in fabric for a finished appearance that is highly sophisticated. This gives you great visibility out of your windows to see outside without your view being limited by horizontal blinds that stack at the top of your window and block some of your views.
Choose from vanes sizes of 2-inch, 2.75-inch, and 3-inch wide to match your windows perfectly. The smaller vane sizes look best in smaller windows, whereas larger vane sizes would be overwhelming. Choose larger vane sizes for your large windows where smaller vanes would look too busy.
Enjoy child and pet-safe lifting options on sheer shades by Graber. The continuous loop lifting mechanism has no dangling cords that children and pets can get harmed by. It gives you smooth operation with a consistent length of cord and works very well in large windows. You can instead add motorization to your sheer shades for the ultimate in convenience. Add them to your Smart hub in your home and set schedules for them to open, close or adjust or control them with the mere touch of a button with a whisper-quiet motor.
Choose both the light-filtering fabric and the room-darkening fabric of your choice. Some solid colors and prints are digitally created as high-quality fabric for your sheer shades. You can get the exact appearance you want with streamlined fabrics.
7. Enjoy Filtered Lighting
Close the horizontal room darkening stripes and open the light filtering stripes to have filtered lighting that you can direct upward or downward by tilting the light filtering stripes as you would with a window blind.
Have perfect privacy and room darkening by adjusting the stripes so they are all dark. This orientation also gives you great energy efficiency in your home because it traps the warm air next to your windows in the summer to allow you use less air conditioning to remain cool inside your home.
Enjoy the superior craftsmanship that provides you with limited light gaps between the vanes for the best room darkening system. Now, you can sleep in later on a weekend with a room darkening sheer shade for a peaceful and quiet sleep.
Have peace of mind with the Graber limited lifetime warranty that have you covered from the time of installation and throughout the life of your window treatments.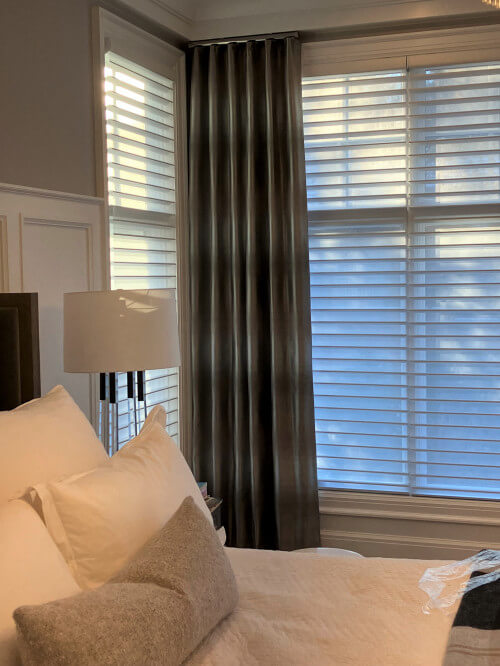 Tips When Buying Graber Sheer Shades
There are several tips to follow when you are searching for new window shading solutions from a
window treatment supplier in Ann Arbor
to lead to you successfully choosing your best window shades.
Put together a budget so you know how much you can afford to spend on your new window treatments. You can spend more money on some rooms and less on others if you wish. Keep in mind that specialty fabrics, patterns, and features will have an added cost to them.
Consider your needs in each window for privacy and lighting control. Decide which rooms you want to be able to darken and which rooms you want to lighten up to help you choose the shades of fabrics for your Graber sheer shades.
Learn how to measure your windows correctly to size them for prices. Measure the window height inside the window frame on the left, center, and right and the window width inside the window frame at the top, center, and bottom. Use the largest measurement for your window size in height and width.
Get The Perfect Blend of Style and Function
Enjoy all the great benefits of Graber sheer shades including the versatility in lighting control, the clean and modern lines, all your options of fabrics, colors, operating systems and energy efficiency. At Creative Window Treatments in Ann Arbor, MI, we carry the largest selection of fabrics and options for your convenience. 
Contact us to schedule a FREE in-home consultation with a highly experienced designer to see what we can create especially for you!