Window treatments are often the finishing touch that brings a room's design together. But with so many innovative window treatment designs, it can be challenging to decide which option is the best for your home.
Choosing your ideal window treatment will depend on several factors, including the space itself, the need for energy efficiency, and, most importantly, your sense of style. Here's a short guide on what to consider when choosing the right Ann Arbor window treatments for you.
What to Consider When Choosing Window Treatments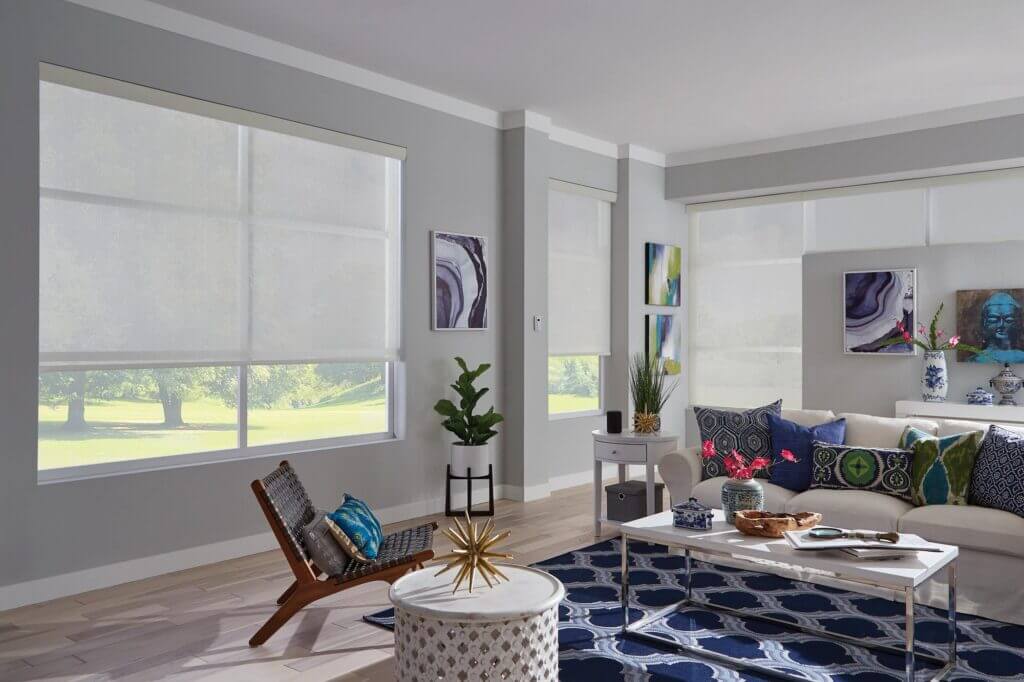 Window Size and Shape
Different window sizes require different types of window treatments. Tall windows do well with things like panels, draperies, and vertical blinds, which all add to the illusion of a very high ceiling. On the other hand, shorter windows do better with horizontal blinds and shades, which can make the window look bigger and the room more spacious.
Window shapes will also affect your choice of window treatment. Unique shapes will often require innovative window treatment designs that take that shape into account while still complementing the room's style and function.
In general, square windows work great with shutters that offer a dramatic sense of framing, while rectangular windows do better with blinds or shades that complement the shape. For blinds, Ann Arbor window treatment manufacturers recommend using internal mountings for deeper windows, while opting for external mountings for shallow windows.
What Is the Window Treatment's Purpose?
Every room is different, and your window treatment installations need to match the room's function and style. You don't have to consider every single factor, but here are some considerations to help you make your final choice about window treatments in Michigan.
If you have an amazing view, you don't want a window covering that will block it. In that case, blinds are a great option, as they let light in while still providing some privacy. If you don't have a view but have too much light entering through the window, shades will protect the room and keep it cool during summer and warmer during winter.
In some rooms, windows are almost completely decorative, which means that you can play around with different window treatments and find the one that best suits the room's style and mood.
The window's purpose will also reflect the type of functionality you need from your custom blinds in Michigan. If you're planning to leave the blinds down most of the time, you can get away with manual controls. However, if you're going to be adjusting the blinds depending on the time of day, remote controls are a better option.
Understanding the Types of Window Treatments
Draperies: Draperies add class and style to a room, without compromising on light. They're easy to move around, so you can get the privacy and shade you want with the push of a button. Draperies often work best in large, tall windows, where they create the illusion of a taller ceiling and add lots of space to a room. However, they may not work as well for shorter windows, where they tend to look cramped and even shorter than they are.
Shades: Shades are excellent for large windows where UV rays are a concern. Roller shades can be convenient and protect a room from harsh sunlight while giving the room a warm and cozy feel. The most popular shade style is the roller shade, which moves from top to bottom on a rolling mechanism. It's easy to operate and provides excellent protection and privacy when you want it. You can also get blackout energy-efficient light-blocking window treatments that will let you sleep in and block almost all light from entering a bedroom.
Shutters: Shutters give a classic look that's hard to match. They do tend to block a lot of light and air, so you'll need to consider the trade-off between privacy and natural light. However, they also come in a variety of styles.
Blinds: Blinds are very functional, making them great for home office, kitchen living, or bathrooms, where they protect your privacy without removing too much light. They come in a variety of styles, including vertical and horizontal slats. You can opt for chunkier, wider slats to create a more rustic look or thinner slats for your home office.
Find Professional Window Treatment Installers in Michigan
Choosing your dream blinds in Michigan can feel challenging. At Creative Windows, our design team is at your disposal. They'll guide you through the entire process, ensuring that they take your preferences and needs into account.
Once you've settled on your dream Ann Arbor window treatments, you can rely on the best window treatment installers in Michigan to make your vision a reality. For more information about window treatments in Michigan, give Creative Windows a call at (734) 769-5100. We look forward to hearing from you soon!