When you choose custom window treatments with motorization, you are choosing the best option for your home. There are many benefits to automatic window treatments that make them a perfect choice for any home.
Modernize your Ann Arbor Home with Motorized Window Treatments
Motorized shades, blinds, and drapery are available today as an innovative product for homeowners all over the United States. It's a clean and simple appearance that goes well with any type of decor or style you may already have in your home. You can customize your window treatments and then add the simplicity and ease of use of motorization.
What Are Motorized Window Treatments?
Motorized window treatments are not brand new on the market as they have been around for several years. That's great news for you because as we all know there can be kinks in new designs. They have been in use for long enough to have different types of motors that are very quiet while being strong for even the largest of windows or sliding glass doors.
Systems may be operated with a smartphone, a tablet, or remote control and they wire into your existing smart home and security system for an all-in-one solution. You can pre-set times for your window treatments to open and close when you aren't even at home. You can also override the programs to make changes to open and close window treatments fully or partially. It's all up to you and how you want to use them.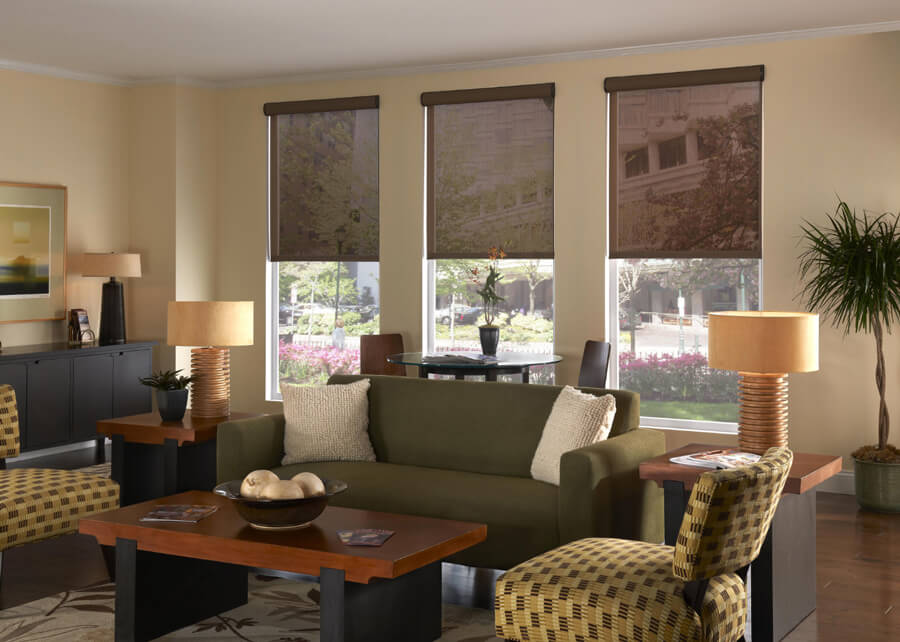 What are The Benefits of Motorized Window Treatments?
You have several benefits of motorized window treatments including:
Convenience
Energy Efficiency
Smart Lighting
Safety for Pets and Children
Added Security
Ease of Use
Convenience
Motorization of your window treatments saves you time and gives you convenience every single day. Most homeowners will open their window treatments in the early morning to get a bit of light into the home without using electricity, then when it gets too warm they will close them in the summer to keep the home cooler and block UV rays, heat, and glare. In the evenings before bed, you likely close all of your window treatments. Just the act of walking to each window and opening or closing manually is actually time-consuming on a daily basis, especially if you have a lovely view out of your windows and have many of them.
Energy Efficiency
Motorized window treatments are the ultimate in energy efficiency. Having your window treatments closed in the warmest part of the day saves you a lot of money on your air conditioning bill in the summers. It keeps the hot air trapped next to the windows and doesn't allow it into your rooms, so your HVAC system runs much less and saves you money. Thinking deeper on this fact, if your air conditioning isn't running as much or as hard in the summer, it will last longer before needing expensive repairs or replacements. The same is true with energy efficiency in the winter, where your window treatments trap cold air next to the windows and you need less heating to be comfortable.
Smart Lighting
Smart lighting is also a great factor in motorized window treatments, When you plan your schedule to open and close windows at the right times of the day, you can make use of natural sunlight for lighting your home. This, in turn, saves electricity every month from using the lights in your home.
Safety for Pets and Children
Safety is always a big concern for small children or pets in a home with window treatments. There are no dangling cords on motorized window treatments for a child to pet to become entangled as a choking hazard. The appearance is clean, neat, and tidy.
Added Security
You get an added layer of security with motorized Ann Arbor window treatments. If you go out of town for a few days for a mini-vacation or a longer vacation, you can program the window coverings to open and close at random times, making it appear as if someone is home. Burglars will generally watch a home for a while before they decide to break into it. But if they think someone is home, they will move on to an easier target.
Ease of Use
Motorization is also a great idea for skylights or windows that are hard to reach, such as one behind a couch or two-story windows. You won't have to struggle with long poles to operate your window coverings, but merely the touch of a button can open and close them as you wish. In addition, this is a great shading solution for older people who may not be able to reach up very high or who don't have enough strength to manually operate a window covering on a large window.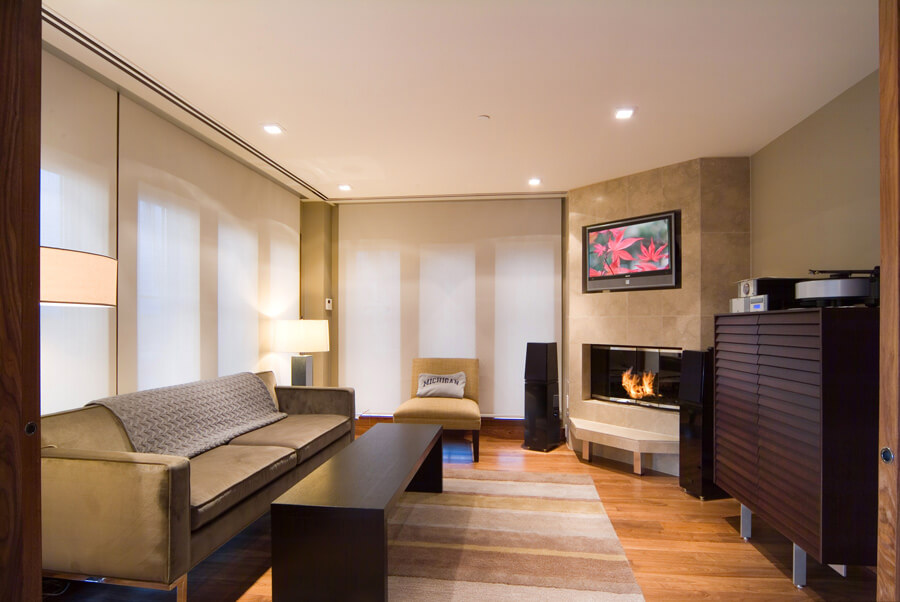 Motorized Window Treatment Choices
You have many choices in motorized window treatments today. The most common are window shades, window blinds, and drapery. In each of these categories, there is a huge choice of selections in the three main types.
Motorized Window Shades
There is a huge amount of lovely choices in automated window shades. There are roller shades that can be made from any type of fabric you wish. The fabric is a flat sheet over the window when it's closed for neat and clean lines. When you open them the fabric rolls up into a tidy roller mechanism at the top of the window.
Cellular window shades are also a popular choice in automation. The tiny cells in the shade trap additional air next to the windows for a very high energy efficiency rating. This type of shade plus motorization may be the best choice for your windows that get ample light in the hottest parts of the day.
Sheer shades work great for providing a great view from your window to the outside world even when they are down. Sheer shades filter out light, glare, heat, and UV rays, but they don't impede your view of a lovely garden or a waterscape that you may have outside.
Motorized Window Blinds
You also have a few choices in window blinds for motorization. Faux wood blinds are a true product of beauty. They appear just like hardwood blinds but are manmade with long-lasting materials. They have a special coating so that they stand up to humidity very well and they don't fade, crack, chip, break or warp as hardwood blinds do. This gives you a great long-lasting product of beauty. To add to the beauty, faux wood blinds may be painted or stained in any color you wish to either blend in with your decor or to stand out with a pop of color.
Woven wood blinds are considered a more relaxing window treatment for an informal room of any type. They are made from all-natural grasses and reeds, such as bamboo and many others that are woven together in wonderful patterns and color combinations from browns to neutrals to greens. These are lightweight and work really well when they are motorized.
Vertical blinds were specially made for large windows and sliding glass doors. They slide from side to side to open and close. A horizontal blind doesn't work well on a large scale because of the total weight of the blind. Vertical blinds with automation are wonderful especially in patio doors so you can open them while carrying out food and drinks on your patio. In this manner, your patio door while open will connect your inside and outside areas to make much more room for guests and family at gatherings.
Motorized Window Draperies
When you choose custom draperies, you are choosing the type of window covering with the most possible appearances, fabrics, thicknesses, colors, and patterns. There are literally thousands of fabrics from which to choose. You may have a window that doesn't get much sun and decide on sheer panels that flow in the breeze when the window is open on a nice day. You can choose a much thicker and luxurious fabric for formal dining rooms and formal living rooms or you can choose anything in between. Adding motorization to your Ann Arbor window treatments is quite simple to open and close your draperies at the touch of a button.
Trust the Professionals in Ann Arbor For Motorization
At Creative Windows, we have the solution for all of your motorized window treatments to add to your security system or your smart home. You can program all of your window treatments or choose a new program at any time with the click of a button or a voice command to your home assistant. Contact us for a consultation to modernize your home in Ann Arbor today.