Bedroom shutters provide many benefits. A wide array of shutter styles means that you'll find the ideal kind in no time. If you're thinking about installing bedroom window shutters in Ann Arbor, consider these advantages and your options for shutter materials.
Five Benefits of Bedroom Shutters
Wood shutters in Ann Arbor, MI, bring compelling benefits, including better light control and improved privacy. You'll also enjoy the energy efficiency benefits of having adequate insulation. Other benefits include bedroom shutters' versatility and customizability.
1) Control Light and Air
Light peeks through blinds and drapes and keeps you awake, while bedroom shutters block light when closed. Control how much light and air get in your room with bedroom shutters to enjoy a restful night's sleep.
Consider shutters with light-blocking parts to effectively keep sunlight out, or choose partial coverage shutters for better air and light control flexibility.
2) Maximizing Privacy
If you're tired of lightweight curtains and other sheer window treatments allowing too much visibility, try bedroom shutters. The thick slats don't allow light through and keep prying eyes out. Bedroom shutters' slats adjust in small increments to let light in without exposing your entire space.
Find ideal privacy with high-quality options, including full coverage plantation shutters, and sleep in as late as you want.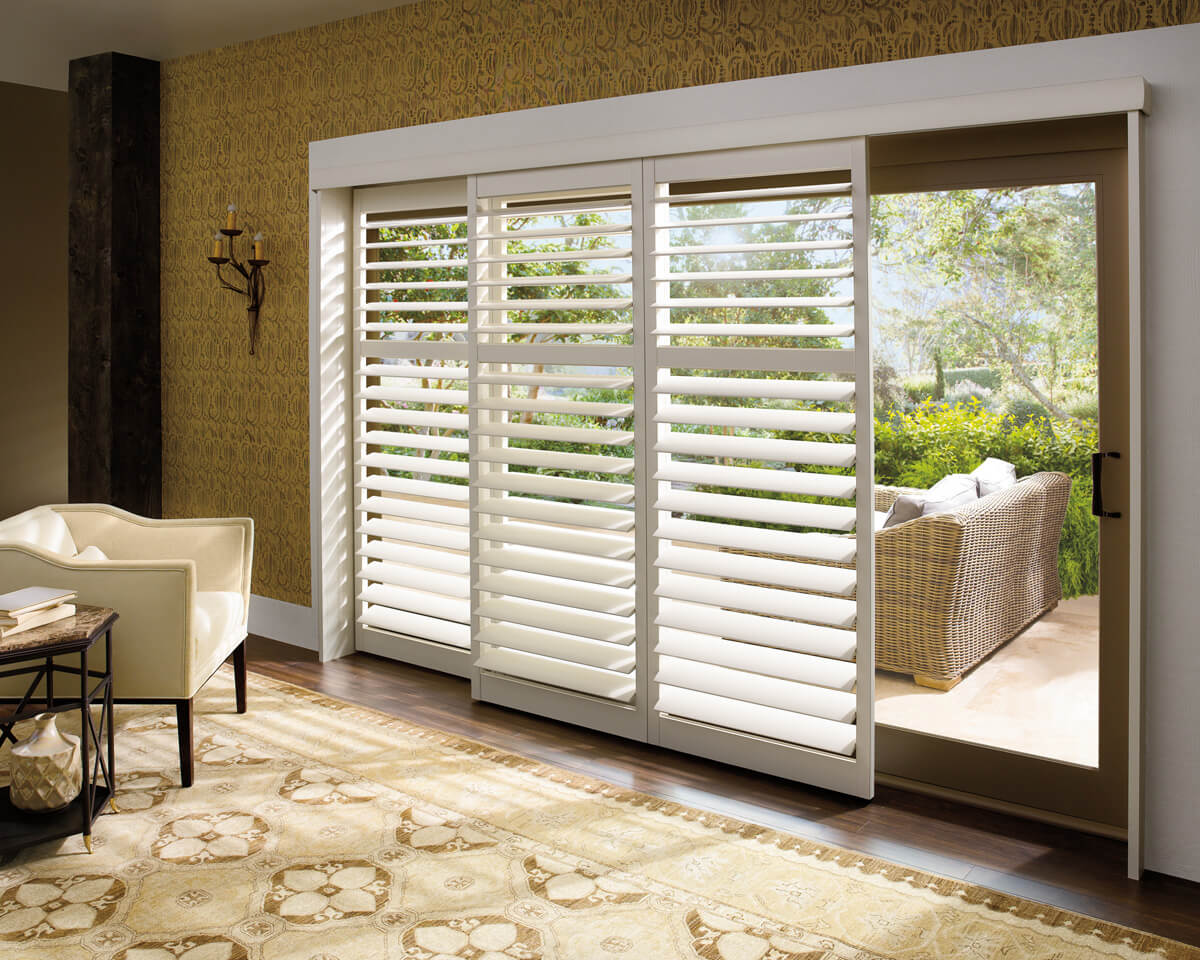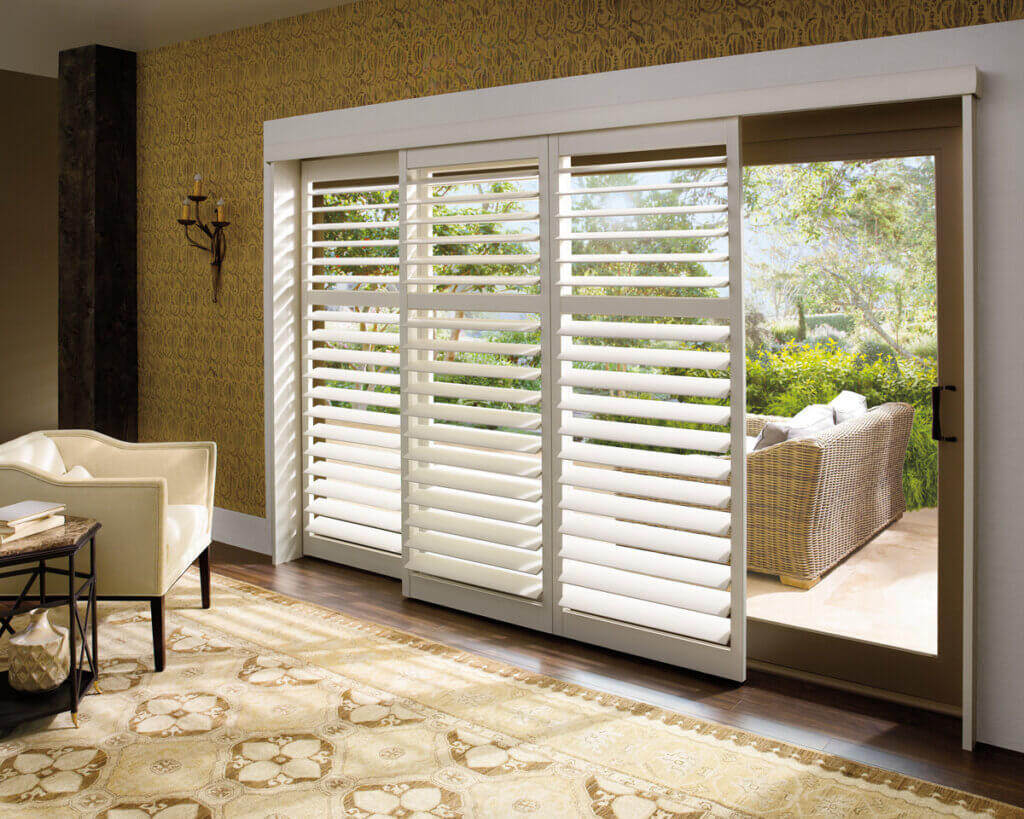 3) Energy Efficiency
Light can easily affect the temperature of your room, but a flimsy fabric window treatment has poor insulation capabilities. Sturdy wooden shutters have insulating properties that block out noise and outdoor temperatures.
Bedroom shutters increase energy efficiency because the insulation means your heating or cooling system doesn't have to operate all day and night.
4) Versatile
Shutters are ideal window treatments for bedrooms because of their versatility and flexibility. Their plain style and straightforward design fit into any aesthetic. Choose from various colors or invest in different materials before making the final decision.
5) Customizable
Considering their plain design, bedroom window shutters are easily customizable. Choose from different sizes, colors, and styles, such as traditional sliding door shutters or roller shades.
Window treatment experts can help you select the best features for your bedroom shutters.
Options for Shutter Materials
Your bedroom needs a durable option to keep wandering eyes away and temperatures comfortable. Window shutters come in many different materials, such as wood and PVC. Consider the following shutter materials for your space.
Wood Shutters: Wood shutters in Ann Arbor are high-quality options typically made from poplar or other durable hardwoods. They are many people's first choice for their balance of durability and appearance. Their smooth surface makes them ideal for adding custom designs and wood stains.
Faux Wood Shutters: Polywood and other faux wood shutters have 70% improved insulation capabilities than leading options. The shutters' vinyl or PVC material has an exceptionally durable wood coating. Consider them as an affordable alternative to natural wood shutters.
Composite Shutters: Ann Arbor composite shutter materials withstand high humidity and are very affordable. Because they use PVC and other composites, they will not warp or damage even under considerable stress. Use them in high-traffic areas without worries.
Vinyl Shutters: Vinyl options are also affordable as they contain no wood and feature lightweight materials. They come in many colors and stains to match your bedroom's interior design. Choose from solid and hollow vinyl shutters, or select an aluminum-insert model.
Conclusion
Bedroom window shutters are an essential interior design consideration. You need an expert to make your Ann Arbor window treatments a successful investment. Choose Creative Windows in Ann Arbor for all your shutter solutions.
Creative Windows makes it easy to get shutters for your bedroom. Our experts have over 40 years of experience helping customers select and install window treatments, including shutters, drapes, and blinds. Choose from our high-quality selection of hard and faux wood, vinyl, and composite window shutters.
We bring homeowners in Ann Arbor and the surrounding areas top-quality shutters for interior and exterior use. Consider us for your next home improvement project.
When you need high-quality shutters in Ann Arbor, Michigan, choose Creative Windows for your interior design project. Consider our shutters to complete your bedroom's look. Call us today and speak to a design expert at (734) 292-4838.