If you are in the market for new window treatments, you've probably seen hardwood blinds, composite, and faux wood blinds and are wondering what is the difference between these different types of window blinds. There are some distinct differences as well as similarities that you should be aware of to make the best choice for your distinct situation in the different rooms of your home. Read on to find out which of these will be your best choices.
Understanding the Difference Between Composite and Faux Wood Blinds
Many people use the terms composite and faux wood blinds interchangeably. A composite blind can be considered a faux wood blind, but all faux wood blinds are not composite blinds.
Composite blinds are made of a mixture of wood pulp and synthetics of plastic resins, or PVC. Non-composite faux wood blinds are usually made of PVC only that is extruded through a process. Often the faux wood blinds contain at least some amount of recycled plastic.
These are the main differences between the two types of blinds. They do have many similarities though. You can have composite and faux wood blinds either stained or painted in any color you desire to match your trim work in your home, your cabinetry, or wood flooring. You can choose a color to blend in with your surroundings or a bright pop of color to add some interest to your windows.
Both composite and faux wood blinds can be custom-made to fit any size and shape window or door that you have in your home. They look especially well in specialty-shaped windows to accent their architectural beauty even further.
You can also choose between the vane sizes for both types of blinds, using larger vanes for larger windows and smaller ones for smaller windows to suit their appearance the best.
Both composite and faux wood blinds are available in horizontal and vertical blinds. Vertical applications work best for very large windows and patio or glass sliding doors, so they can operate without being hindered by other horizontal blinds.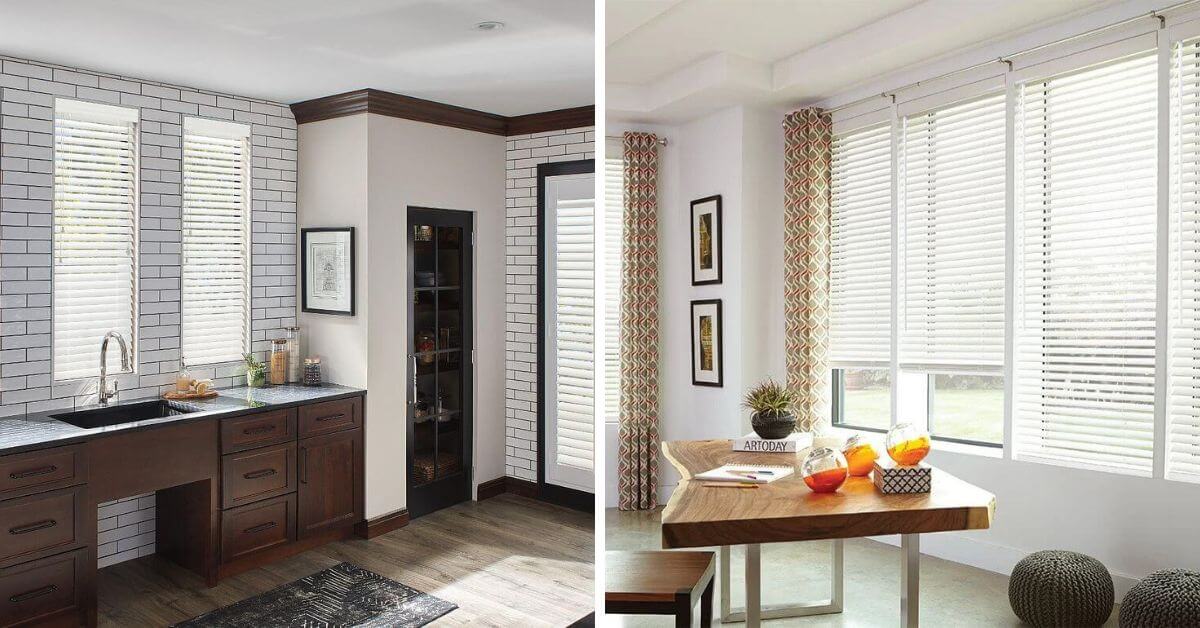 Composite and Faux Wood Blinds Pros and Cons
Both composite and faux wood blinds are very durable products that hold up well to pets and children. You can choose cordless options to operate them with the touch of your hand and have no dangling cords for pets and children to be entangled in, causing harm to them.
You can instead choose the motorized operation on both types of blinds for the ultimate convenience. You can program them to open and close on a preset schedule or operate them with the simple touch of a button on a remote control, your smartphone, or tablet with the help of an app.
Composite and faux wood blinds are both energy-efficient options for any window or door in your home. They had an extra layer of insulation to keep your home cooler in the summer and warmer in the winter months and to reduce your power to operate your heating and cooling.
Composite and faux wood blinds are both treated with special UV inhibitors that keep them from fading, cracking, bending, breaking, or discoloring over time. They are both recommended for use in hot and humid areas such as kitchens and bathrooms because they can withstand temperature changes without any harm to them, as with hardwood blinds.
Where to Buy Composite and Faux Wood Blinds in Ann Arbor
At Creative Windows, we are your premier specialist for your window treatment store in Ann Arbor, MI. We carry the largest selection of window treatments in the state with the highest quality products and the most options possible at affordable prices. We have a full line of window treatment products including shades, blinds, shutters, draperies, and motorized window treatments. We offer a guarantee on all our services as well as all of our products.
Get Help From Ann Arbor Professional Window Treatment Specialist
Let us help you to choose the best window treatments for your project. We offer a FREE in-home consultation with a professional designer to offer you many different options that will satisfy your needs, fit your budget and beautify your home. Contact us today to see what we can create together!