Faux wood blinds appear just like real hardwood blinds, and they have the same great qualities plus many more. You get fashionable blinds at an affordable price for the highest quality and most durable option you can find. The cordless option also makes them child and pet safe as well. We have answers to all of your questions about cordless faux wood blinds.
How Do Cordless Faux Wood Blinds Work?
Older types of traditional blinds of all sorts use a cord to open and close them. You pull on a cord for opening, and another for closing them, and use a wand to tilt the vanes for filtering your light. The cords are a choking hazard for small children and pets and can be quite unsightly, while the blinds don't always stay horizontal on the bottom, and they need to be readjusted several times to get them straight.
Cordless faux wood blinds have no cords at all. Instead, you simply grasp the center of the bottom rail ad gently raise it to raise your blinds or lower them by lowering the rail. You can adjust them to any height you wish.
Motorized options are available for your convenience too. You can program them to adjust, raise and lower on a preset schedule or you can override the program with the touch of a button on a remote control, your Smart phone, or tablet with the help of an app. Motorized blinds connect to your existing Smart home hub for an easy method of modernizing and automating your home.
When To Use Cordless Faux Wood Blinds
If you have a room that has several different windows in it, and they are of different sizes and maybe even shapes, it's a great idea to use cordless faux wood blinds. This will give you a clean and uniform look to the entire room without dangling cords to distract from a clean appearance. Many dangling cords look cluttered, and with cordless options, you will be able to adjust your blinds more quickly and easily.
Focal windows also look great with cordless faux wood blinds. They highlight your beautiful architectural features, such as specialty-shaped windows or banks of windows, such as bay and bow windows. When fully raised, your blinds will give you a great view out of your focal windows to see outside without marring the view.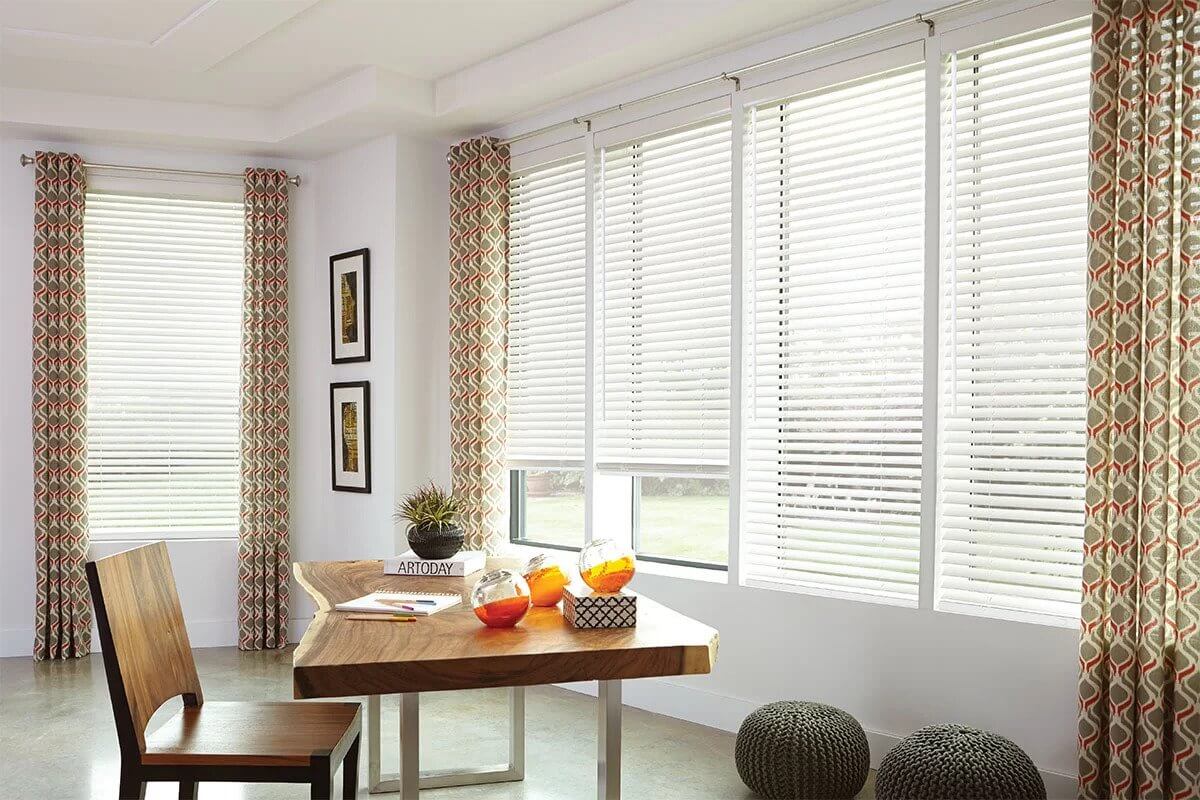 When To Use Motorized Cordless Faux Wood Blinds
Some windows work best with the motorized option of cordless blinds. If your windows are hard to reach because it has furniture in front of them, or your windows are up high, then motorization is a great tool. In large windows and doors, motorization helps to lift very heavy blinds because of the sheer size. Older people that may have mobility issues and have trouble lifting blinds also benefit greatly from motorized cordless blinds.
Where to Buy Cordless Faux Wood Blinds in Ann Arbor
Get Help From Ann Arbor Professional Window Treatment Specialists
Contact Creative Windows in Ann Arbor for the highest-quality window treatments of all types in Ann Arbor. We offer a FREE in-home consultation with one of our professional designers to offer you many different options from which to choose to suit your needs and tastes. 
We design, create, and professionally install all of your products for you, and we guarantee the products and our services to you as well. Contact us today so we can create something special for your beautiful home!