Pleated shades are a work of art for your windows in many beautiful colors, designs, and patterns. This type of shade works well in any room of your home and it matches any decor and style you may have too. Read on to find out how you can benefit from beautiful pleated shades.
Pleated shades are also commonly called pleated blinds or accordion blinds. They are extremely versatile for lighting control and available in 1 and 2-inch pleats. The colors range from white to neutral and bold and bright, as well as many different textures and patterns, so you are sure to find a pleated shade that meets all of your desires.
The pleats are consistent, meaning that the pleats will re-pleat perfectly every time you raise your shades for a no-fuss and softened style in window treatments.
Benefits of Pleated Shades
Pleated shades look a lot like honeycomb shades except they let light and air escape through the small cord holes in the pleats that allow you to lift them with a cord. Pleated shades are available at a lower price point than cellular shades.
These shades give you a crisp and contemporary look in your windows and create clean lines. You can get them with no-hole privacy options if you wish, and additional liners can be added to them for room-darkening capabilities. The liners can be operated together with the shades or separately.
You can choose to motorize your pleated shades so they open, close, and adjust with the touch of a button for your convenience.
Motorized window treatments program pre-set times for your shades to open and close to maximize your energy efficiency.
Another great feature and benefit is the top-down-bottom-up ability for adjusting your lighting. The shades can be opened on either the top or bottom half of your windows, or they can be opened or closed entirely. With the bottom half closed, you get great privacy, but you can still enjoy the natural sunlight through the top of the window.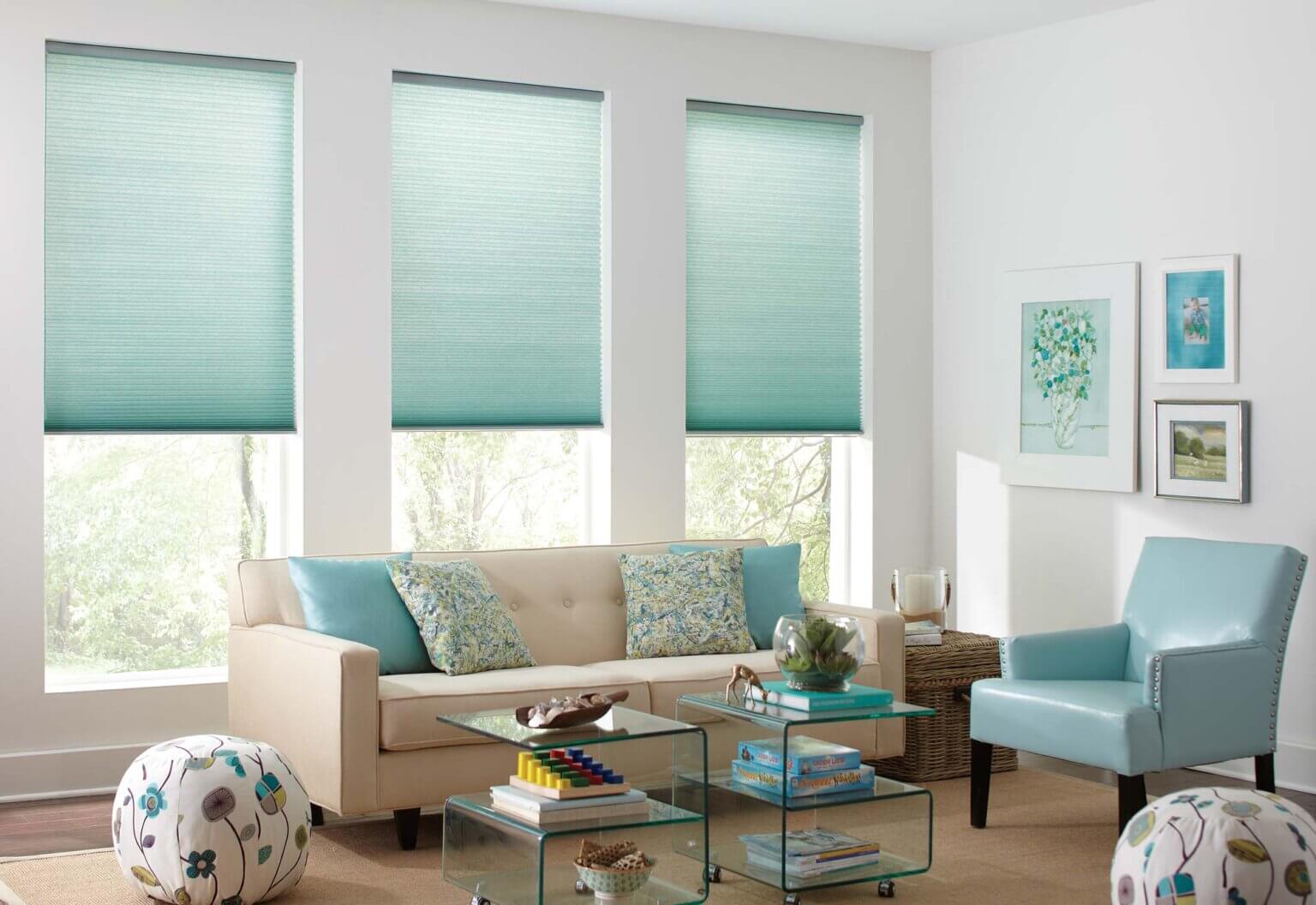 6 Stylish Ideas For Your Pleated Shades
Pleated shades are one of the most stylish ideas you can add to your home. They offer a contemporary and sleek look that is sure to make any room feel updated, plus they allow for just the right amount of light to come in without compromising your privacy.
As pleated shades are incredibly durable and available in many different colors, materials, and sizes, you'll have no trouble finding the perfect option for your home décor. With pleated shades, even the window treatments in your home can become statement pieces that stand out!
Choose from a huge variety of colors and fabrics for your pleated shades. The colors you choose for window treatments set the mood for the room. Warm colors like maroon, red, and orange make people feel energized and these colors work very well for a home office or a hobby room. Choose neutral tones such as white or gray for a serene feeling in your living room and dining room. Relaxing colors include cool greens, blues, and purple that work well in bedrooms.
Thicker fabrics will add more interest to your rooms and depth to your windows, and the same is true with patterns and prints of all types. Geometrical prints are very popular in window treatments to add interest to any room of your home.
You can add personality and some of your own unique style to custom pleated shades by the addition of trim and tassels. Consider using a solid color fabric in a neutral color and then adding fabric tape to it in a playful and colorful pattern to match the decor in your rooms. Tassels are available in many different types such as crystals, beads, and string in single colors and variegated colors. The addition of a throw pillow with the same trim or tassels on it ties in all the elements of the room.
Choosing to have custom draperies allows you to make many changes to the designs to create something new and exciting. Window shades generally have a straight hemline at the bottom of them. Consider a scalloped bottom to soften the lines and add interest.
Choose the top-down-bottom-up feature for the areas that you need privacy in the most, such as bathrooms and bedrooms. You can close the bottom half of the window off for privacy but still allow natural sunlight into the rooms.
For children's rooms choose a continuous cord loop, a cordless lifting system, or have them motorized. These are all child and pet-safe options that are great for your little ones from a window treatment supplier in Ann Arbor.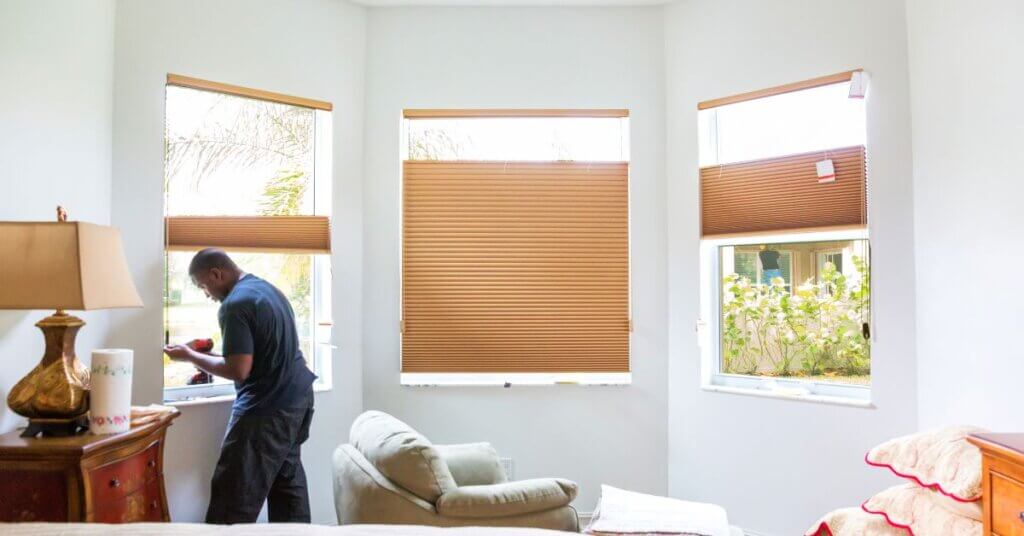 How to Install Pleated Shades
The most common orientation of pleated shades is an inside mount where they attach to the inside of the window frame. Clip the two mounting brackets into the headrail of the shade to hold the shade in place and mark the area at the rear of the bracket where it contacts the window frame.
Remove the brackets from the headrail and align them with your marks. Pre-drill pilot holes with a drill bit and then attach the brackets to the window frame. Snap the headrail back into place.
Maintenance Tips for Pleated Shades
Maintenance of pleated shades is quite easy. Remove the shade from the head rail and lay it down on a flat and clean surface. Vacuum each side with a soft brush attachment while following the horizontal pleats.
If there are soiled spots, spray a fabric cleaner on it, such as Woolite, and immediately rub the area with a clean damp sponge. Rub back and forth following the pleats until the stain is removed.
Blot the area dry with a clean, dry cloth and rehang the shade after it is completely dry.
Transform Your Windows with The Help of the Experts
If you are considering pleated shades for your new window coverings, we are here to help you. At Creative Window Treatments in Ann Arbor, MI, we design, fabricate and install your custom window treatments for you as a complete turnkey process that is made stress-free for our customers. Contact us today for expert advice and a FREE in-home consultation to see what we can create for you!