The best window treatments for your kitchen have a big job to perform. They should give you privacy, have excellent lighting control, be energy efficient, splashproof, and be stylish and modern.
Read on to find out more about all of your options for kitchen window treatment ideas.
What Kinds of Window Treatments Work Best in the Kitchen?
Kitchen windows come in various sizes, such as large, glazed doors, small casement windows, or anything in between. One of the most popular areas in a kitchen to have a window is over the kitchen sink. You may also have a window close to your stove and oven that needs dressing. 
For these applications, you can consider moisture-resistant kitchen blinds or shutters. For doors and windows farther away from your work zones, consider Roman shades or curtains, or another soft window treatment to add some softness to a room filled with hard materials.
Playful Patterns Above Your Kitchen Sink
Generally speaking, if you have a window above your kitchen sink, it won't be an extra large window or a bank of windows, but it will be a smaller window. 
This is the perfect place to choose a playful pattern for kitchen window treatment ideas that match your decor and color scheme. 
Consider using a Roman shade with a simple two-toned striped pattern or a more colorful design to draw attention to the window.
Dressing up Your Doors and French Windows in a Kitchen Space
In more oversized French windows, sliding doors, and doors that open outward, you want to dress them with options that will give you great privacy after dark. 
Sliding glass doors, bi-fold or French doors, and windows look exceptionally well with shutters, so you can close the slats after night and have privacy in your kitchen and adjoining areas. Shutters are versatile because you can choose any color to paint or stain them that suits you. 
You can also choose to have them open as traditional shutters and swings available or as bi-fold doors.
Modern Window Treatments for Skylights
Skylights give you much natural daylight to illuminate your kitchen so you can see to read recipes and see clearly to prepare meals safely. 
Choose a modern roller shade with automation so you can block some sunlight as filtered light as the sun moves around the house. With the touch of a button, you can open, close, and adjust your skylight covers to any height you wish.
If your kitchen space has many characters with colored walls, cabinets, and splashes of colorful rugs, among other items, then it's best to choose kitchen window treatment ideas that will be pared back. 
Horizontal window blinds will work well in this situation in a neutral color to blend in with the other bright colors and let your different aesthetics take the show.
Creating a Cheerful Cooking Area
If your kitchen cabinets are painted in color, such as blue or green, you can add a roller shade for windows with motifs that complement the cabinets for a cheery appearance. Roller shades can also maximize light when they are open and give you privacy when they are closed. 
When available, they only take up a small amount of space at the top of the window, so you get complete visibility out of the window and sunlight throughout the day.
Sheer Shades for Balancing Lighting
Modern sheer shades combine the beauty of fabric like a roller shade with the convenience and lighting control of a window blind. These are made from two fabrics in alternating stripes: light filtering and thicker and darker material. 
You can adjust them to be all light filtering, room darkening, or alternating for some filtered light without all of the sun and heat in your kitchen. These are available in many colors, so you will find one combination you truly love for your kitchen window treatment ideas.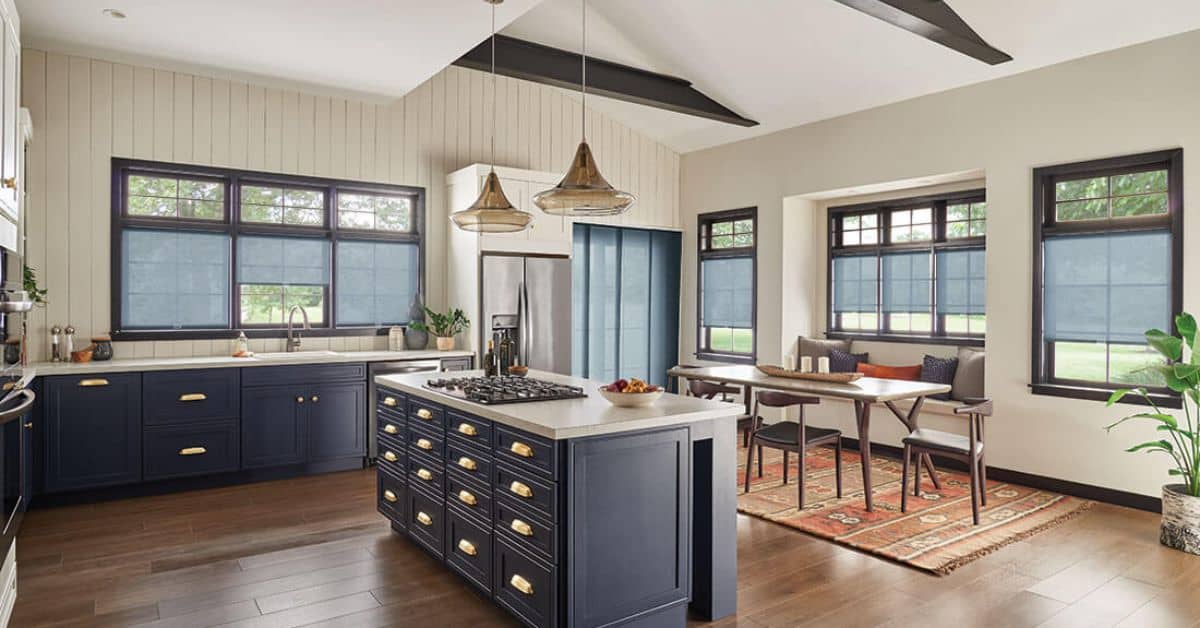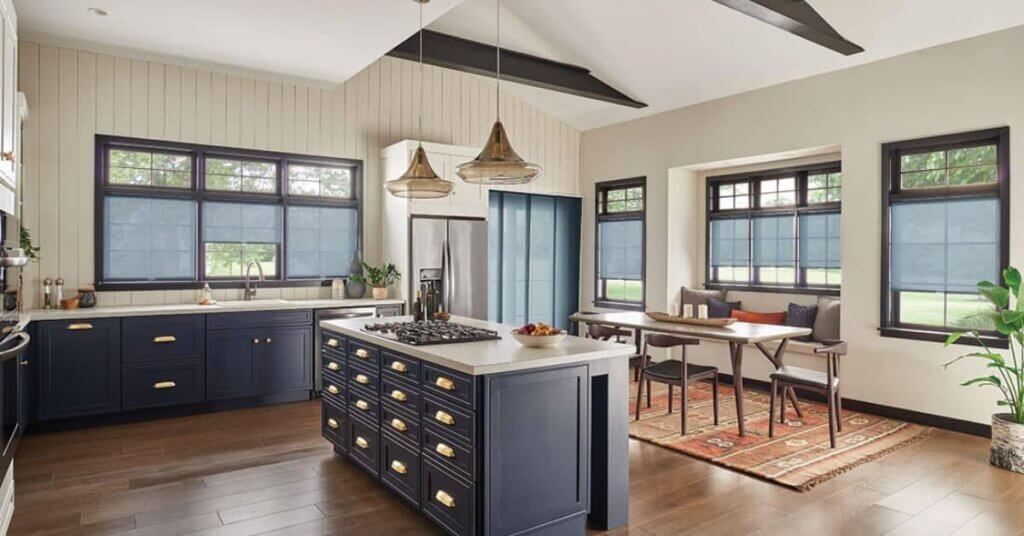 Adding Height To Your Kitchen Space
If you have a sliding glass door or a large window in your kitchen, you can add additional height to your room by using vertical blinds for your kitchen window treatment ideas. 
They make your ceilings appear higher than they are, and you have many different modern materials from which to choose, including elegant fabric vanes for softness to balance the hard lines in kitchens.
Choose the Professionals for Your Kitchen Window Treatments
There are a lot of different kitchen window treatment ideas out there, so it can take time to decide which one is right for your home. Our expert team of designers, fabricators, and installers at Creative Windows is here to help you choose the best options for your custom window treatments in Ann Arbor. 
We offer a FREE in-home consultation with one of our highly experienced designers and offer you many different options for dressing your windows. We are your premier window treatment store in Ann Arbor and only carry the highest quality products you can trust. 
However, by considering the style of your kitchen and the amount of light you want to let in, you can narrow down your options and choose the perfect window treatment for your space.  Contact us today for your consultation on kitchen window treatment ideas! Thanks for reading, and we hope you found this article helpful!