Window blinds have come quite a long way from the original Venetian blinds with small slats that were only available in white. You can now choose from many materials as well as colors to match your decor seamlessly.
The Most Popular Choices of Window Blinds for a Modern Ann Arbor Home
Shopping for a modern-looking window blind can be a lot of fun. You have so many choices that you are sure to find the exact perfect product for your home. Window blinds can be like the frosting on a cake that ties in all the elements in a room. Blinds can help you to create the ultimate space in which to live, work and entertain.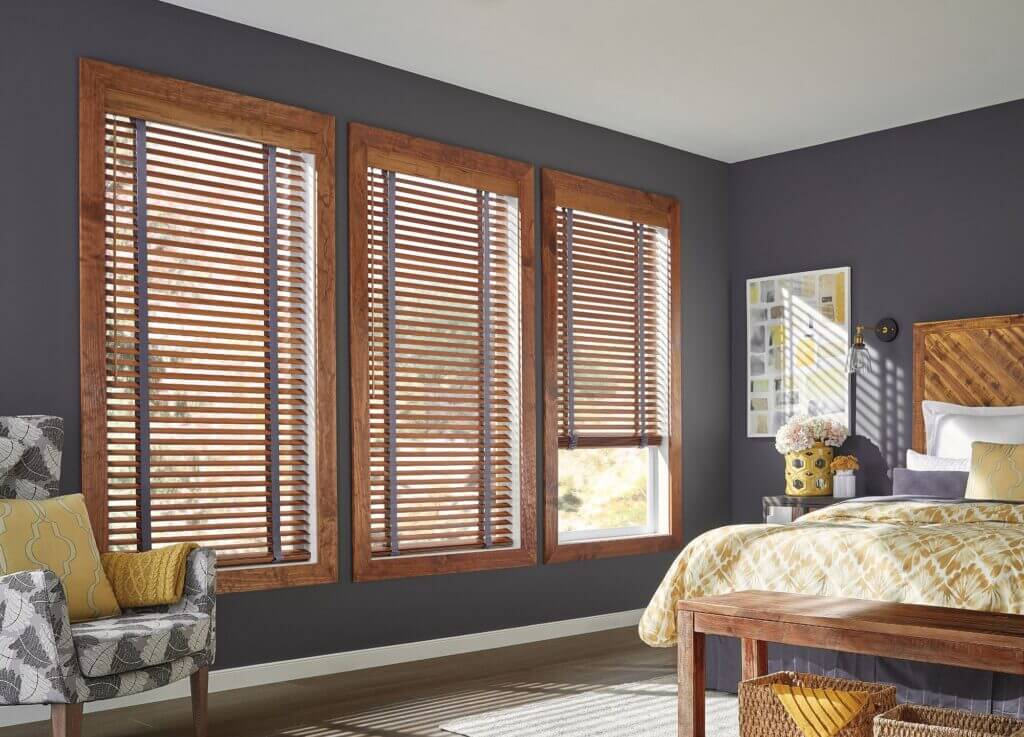 5 Different Types of Blinds
There are five main types of different blinds that you may want to consider for your Ann Arbor home. They are all popular choices and include:
Wood Blinds
Composite Blinds
Faux Wood Blinds
Vertical Blinds
Aluminum Blinds
Wood Blinds
Hardwood or wood blinds are magnificent and have a timeless beauty. They are made from hardwood tree varieties and you can see the wood grain swirls and whorls in the wood that are highlighted by either paint or stain. You may choose to have your wood blinds stained in a color to match the trim in your home or to blend into their surroundings. Instead, you may choose a darker stain color for the wood blinds if your walls are very light and in a neutral color. This combination will draw the eye to your wonderful blinds as a focal point in any room. If you decide to have your blinds painted, you can also choose any color to match your decor or perhaps a bright pop of color to pick up an accent color in the room.
Composite Blinds
Composite window blinds in Ann Arbor are manmade of a material that is moisture resistant. This makes these types of blinds perfect for areas of high humidity, such as bathrooms, kitchens, laundry rooms, and mudrooms. The blinds are treated with a substance that reflects UV rays so they won't crack, fade or warp and they retain their color too. Untreated blinds will eventually warp or yellow with age on the rear side where the sun shines on them all the time.
Faux Wood Blinds
Faux wood blinds appear exactly like hardwood blinds. They are made from a faux wood material that can be comprised of PVC, vinyl, composite, or foam wood. They have a wood grain that looks amazingly natural imprinted on them. You can also have faux wood blinds stained or painted in any color you choose. Faux wood blinds use a wood substitute to create the specific look and feel of true wood, but you get this look for a lower price point than wood blinds. Faux wood blinds are also treated with a UV inhibitor so they won't chip, peel, break, warp or fade and they are approved for use in the same humid areas of your home as composite blinds.
Vertical Blinds
Vertical blinds were created for use on very large windows and sliding glass doors. A horizontal blind that stretches a long length down a large expanse of glass would need to lift the weight of the entire blind, which is quite heavy. This was wearing out the lifting mechanisms very quickly. The vertical blinds only carry the weight of one vane and they slide to one side when you open them. Vertical blinds are versatile as you can have the "stack" meaning the closed vanes of the blind, on either side of a large window or door or you can actually have the stack in the center of the window to cover a piece of the window frame. This orientation allows you to open only one-half of the blinds at one time if you wish.
Aluminum Blinds
Aluminum blinds are the same types as Venetian blinds from years ago. The good news is that they are now available in different-sized slats to give you a different look on your windows. If you have a larger window, it looks best to have larger slats on it and the smaller slats look better on smaller windows. A large window with small slats on the blinds appear too busy and when they are tilted to filter out light but still see outside, your view to the outdoors has many horizontal lines in them, making it more difficult to see. Aluminum blinds are also available in a large variety of neutral and pastel as well as bright colors. These types of blinds are considered for people on a budget, as they are the least expensive option.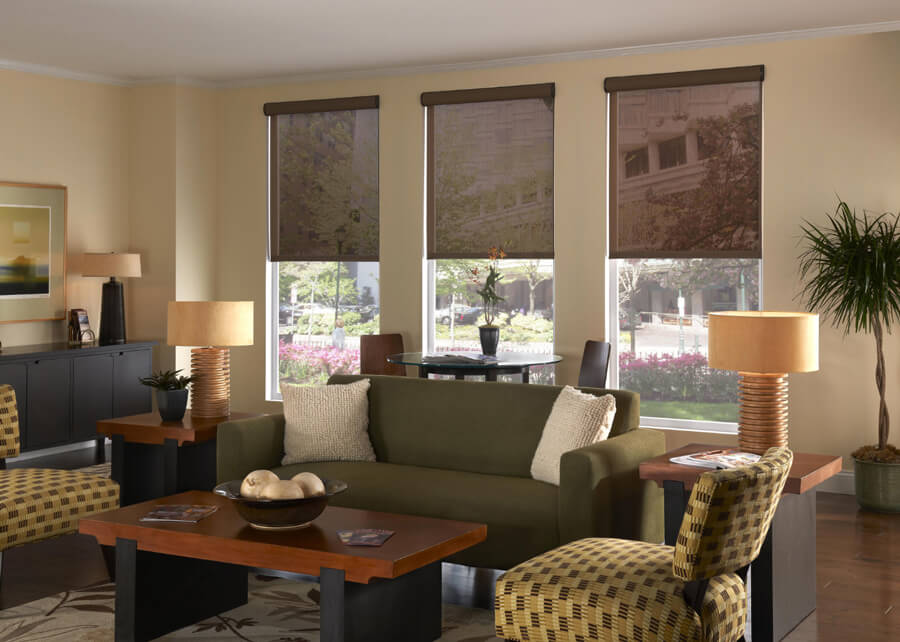 Blinds Materials
There is a large array of types of blinds and the materials that blinds are made of too. You can choose the type and then choose the materials such as:
Wood
Faux Wood
Vinyl
Metal
Aluminum
Wood Blinds
Hardwood blinds exude a warm and classic feel to any setting with accents of natural beauty. The wood slats are available in rich wood tones with a selection of slat sizes, stylish neutral colors, and paint or stain to match any decor and color that you wish. Wood blinds are available in many of the modern finishes that you may already have in your home including whites, grays, and other neutral tones.
Faux Wood Blinds
Faux wood blinds are also called alternative wood blinds. They give you the luster and appearance of hardwood blinds without the extra upkeep. They can withstand humidity and sun exposure very well and they resist fading, warping, bowing, and yellowing for a window treatment that lasts for years and stays beautiful at the same time. You get the same choices of colors in faux wood blinds like hardwood blinds for a smaller price point.
Vinyl Blinds
Vinyl blinds may just be the type of window coverings you are looking for on a budget. They work well in rooms to control the light and the heat gain in the summer months. You can find vinyl blinds in many different types and textures for a modern appearance. This includes plaza fabrics, grasscloth, grass weave, textured slats, and stenciled fabrics. Decorative tape in any pattern and color can also be added to vinyl blinds for a creation that is all your own.
Metal Blinds
Metal blinds are not just available in a few colors, but they now come in many exciting hues and finishes from matte to shiny metallic and even in pearlescent hues to match any decor in any room. You also have a choice in slat sizes and the Hunter Douglas Magnaview is made with thinner slats so that when your window blind is closed but the slats are tilted open fully, you have a much better and unobstructed view of the great outdoors.
Aluminum Blinds            
Aluminum blinds are also called mini blinds. This name comes from the small or mini slat sizes of 1/2 inch, 1 inch, and 2 inches. These are the budget blinds that are the least expensive items for you. You get all of the same features of light, heat, and UV ray control as well as the tilting mechanism in all types of blinds. Aluminum blinds are very lightweight which makes them easy to lift and lower with the cordless option. If your windows and doors have shallow window sills, then this type of blind will work the best and will fit the bill perfectly.
Blinds Operation
After you choose the type of blinds you want, the material you crave, and the color you love, you can then choose how to operate your window treatments. Two options of operation for blinds are:
Manual Operation
Thank goodness for cordless blinds of all types. The older versions with cords were dangerous for children and pets as a choking hazard. The blinds today are cordless and operate very easily while always looking neat and tidy without cords hanging down. You simply grasp the bottom rail in the center of your window blind and gently lift it to open the blinds. To close them you grasp the same area and gently push it down. They will open evenly and never look crooked as the old versions of blinds did quite often.
Motorized Operation
You can choose to have your custom blinds in Michigan motorized so that you can raise and lower them to any point by the touch of a button. Motorized window treatments and blinds can also be programmed to automatically open and close at pre-set times if you wish. This way you won't ever forget to close the blinds when you are leaving the house. You can even use your automatic window blinds with your home assistant to be voice-activated as well. That's real technology for your home.
Choose Professional Ann Arbor Window Treatments
At Creative Windows of Ann Arbor, we have all the options in window blinds that you can possibly imagine. We offer free consultations for your window treatments and we specialize in custom shading solutions for your home. All windows are not of a specific size, so your window treatments must fit correctly in order to look nice. Our team of professionals has over 40 years of experience in creating customized window treatments of all types. Our designers, fabricators, installers, and project managers make certain that you get the quality window coverings you need with a personal touch and attention to detail. Contact us for a free in-home consultation for all of your window treatment needs.